Warning: This page contains material that may be considered not safe for work.
About
"Nightmare Fuel" is an internet slang term used to describe various media, including images, videos and stories, that are prone to evoke intense feelings of terror and/or induce insomnia.
Origin
The phrase "nightmare fuel" used in this manner was first uttered in episode 521[1] of Mystery Science Theater 3000, which originally aired on December 24th, 1993. While watching the film "Santa Claus," Crow T. Robot sees an animatronic Santa that causes him to exclaim "That's some good old-fashioned nightmare fuel."
Spread
The phrase was used throughout the rec.arts.tv.mst3k.misc newsgroup to refer to fear-evoking scenes from the episodes as early as September 19th, 1995[2] in reference to a marathon airing of the 1969 children's television show H.R. Pufnstuf. Throughout the late 1990s, the term had spread to other newsgroups including alt.alien.vampire.flonk.flonk.flonk[3], rec.arts.sf.tv.babylon5.moderated[4] and rec.arts.anime.misc.[5] In October 1999, blogger James Lileks began using the phrase on his website[7] to describe unintentionally frightening vintage advertisements. The following year, the blog Misinformer.com[6] used "nightmare fuel" to describe a cardboard car (shown below) that participated in 2000's Doo Dah Parade held in Pasedena, California.

In 2006, "Nightmare Fuel" was added to Urban Dictionary[8], who used shock sites Goatse, Lemon Party and Tubgirl as examples. In 2008, it was defined a second time, with the 1974 Screen Gems logo known as "The S From Hell" as an example. Also in 2008, Lemon Demon released a song titled "Nightmare Fuel"[9] as a bonus track on the album View-Monster.
In March 2009, a Flickr pool[10] for nightmare-inducing images was created, gaining nearly 90 photos as of October 2013. In August 2011, the single topic Tumblr nightmare--fuel[14] was established, sharing spooky images and videos. Later that year, the local access television show titled Nightmare Fuel TV (shown below) began airing in Seattle. They also launched a website[11] and Facebook fan page[12] for their show. Also in late 2011, the Creepypasta Wiki[13] created a gallery titled Nightmare Fuel for images that were never intended to be scary but were horrifying for one reason or another. Sometime in 2012, YouTube vlogger MrCreepyPasta began compiling a a playlist titled Nightmare Fuel[15] comprised of dramatic readings of creepypasta stories. Additionally, an independent horror film titled Nightmare Fuel[16] was released on October 1st, 2012.
Notable Examples
Nightmare Fuel has been used as a hashtag on a number of sites including Deadspin[17] and Cheezburger[18] to categorize potentially scary content. The hashtag can also be found on Twitter[19], Tumblr[20], Instagram[21] and deviantART.[22]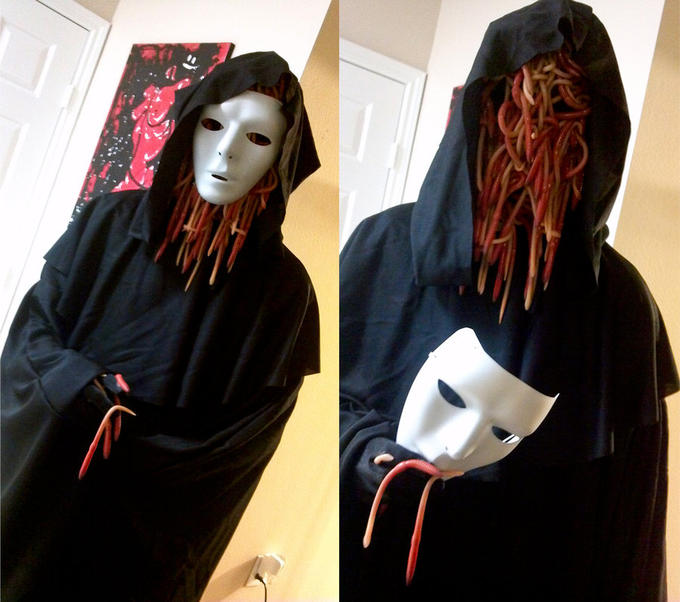 Subgenres
According to TV Tropes, Nightmare fuel comes in two varieties: Regular (previously known as "High Octane Nightmare Fuel") and Accidental. Regular nightmare fuel is a work of fiction or aspect of such work that is intended to induce fear in viewers. This variety mainly includes the genres of horror, thrillers, and suspense. Accidental nightmare fuel is a variety of nightmare fuel which was not intended to be scary, but comes off as such in the final product. Examples of this include the Tails Doll from Sonic R and the surreal Mexican film "Santa Claus," which would later inspire the writers of Mystery Science Theater 3000 to coin the term.
Search Interest
External References