This submission is currently being researched & evaluated!
You can help confirm this entry by contributing facts, media, and other evidence of notability and mutation.
About
Papa John's is the third largest take-out and pizza delivery fast food restaurant chain in the United States. With more than 4,700 locations around the world, the restaurant has also been attached to a number of political controversies, surrounding company policy and founder John Schnatter's public comments.
History
On October 2nd, 1984, John Schnatter founded the first Papa John's Pizza by selling pizza out of a converted broom closet at Schnatter's father's tavern, Mick's Lounge, in Jeffersonville, Indiana. Schnatter infamously sold his 1971 Camaro Z28 for $1,600 to purchase the materials to start the company. In 2009, he found the long-lost camaro and purchased the car back for $250,000.[9]
In 2001, Papa John's became the first pizza chain to offer national online ordering. Six years later, it became the first chain to offer SMS text message ordering.
In September 2012, the company opened its 4,000th location and celebrated by giving away 4,000 pizza throughout New York City.
2012 Papa John's Boycott
Papa John's Boycott refers to an online campaign against the take-out and pizza delivery restaurant chain Papa John's Pizza. The boycott was launched in November of 2012 in response to statements by Papa John's CEO John Schnatter regarding the health care reform legislation known as Patient Protection and Afforable Care Act (also known as Obamacare).
2017 #TakeAKnee Controversy
On November 1st, 2017, Schnatter claimed that controversy surrounding the National Anthem had hurt sales, which were down from the previous year.[1] "The NFL has hurt us," he said. "We are disappointed the NFL and its leadership did not resolve this." The pizza company is the official one of the NFL and has a deal with the league and 23 teams. However, they claim to have taken some NFL-related advertising off the air.
"We expect it to persist unless a solution is put in place," said Papa John's President and Chief Operating Officer Steve Ritchie.
The following day, Pizza Hut, who has no affiliation with he NFL, reported a 1% sales growth in the past year.[2] Yum Brands CEO, the owner of Pizza Hut, Taco Bell and KFC, commented, "We're not seeing any impact from any of that.[3]
Online, people interpreted Creed's comment as "throwing shade" or insulting Papa John's (examples below). That day, Twitter[4] published a Moments page regarding the comments.



Later that day, the frozen pizza company DiGorno Pizza also posted a series of tweets that were seemingly aimed at Papa John's. The first tweet[5] (shown below, left) read, "Us: 🍕📈 / Them: 🍕📉" and received more than 15,000 retweets and 53,000 likes in 24 hours. DiGorno replied to this tweet with a parody of Papa John's slogan that read, "Better Pizza. Better Sales." The tweet (shown below, center) received more than 8,000 retweets and 25,000 likes in 24 hours. Finally, DiGorno tweeted,[6] "Update: 📉📉📉📉📉📉📉📉📉📉📉📉📉📉📉📉📉📉📉📉📉📉📉📉📉📉📉📉📉📉📉📉📉📉📉📉📉📉📉📉📉📉📉📉📉📉📉📉📉📉📉📉📉📉📉📉📉📉📉📉📉📉📉📉📉📉📉📉📉📉📉📉📉📉📉📉📉📉📉📉📉📉📉📉📉📉📉📉📉📉📉📉📉📉📉📉📉📉📉📉📉📉📉📉📉📉📉📉📉📉📉📉📉📉📉📉📉📉📉📉📉📉📉📉📉📉📉📉📉📉📉📉" The final tweet (shown below, right) received more than 2,600 retweets and 11,000 likes in 24 hours.
That day, Twitter[8] published another Moments page about DiGorno Pizza's tweets, receiving more than 1,400 likes in 24 hours.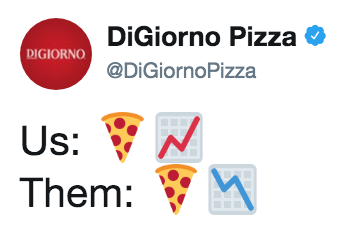 On February 28th, 2018, Papa John's CEO Steve Richie said in the company's earnings conference call that they are no longer the official pizza of the NFL. Richie said that the company and the NFL have mutually decided to separate.[20]
In a joint statement, the entities said, "The NFL and Papa John's have made a mutual decision to shift from their official league sponsorship to a focus on partnerships with 22 local NFL teams, presence in broadcast and digital media, and key personalities in the sport."
That day, the NFL announced that Pizza Hut would be named the official pizza of the NFL.[21]
That day, Twitter[22] user @KingJosiah54 posted a gif of a boy looking nervous with the caption "Peyton Manning when Papa John see him eating Pizza Hut." The post (shown below) received more than 300 retweets and 1,000 likes in six hours.
Peyton Manning when Papa John see him eating Pizza Hut pic.twitter.com/0MOolRog1b

— Josiah Johnson (@KingJosiah54) February 28, 2018
John Schnatter's Resignation
On July 11th, 2018, John Schnatter resigned as Chairman of Papa John's after admitting to saying the N-word on a conference call.[23] In a statement, Schnatter stated, "News reports attributing the use of inappropriate and hurtful language to me during a media training session regarding race are true… Regardless of the context, I apologize. Simply stated, racism has no place in our society." Schattner also resigned from the Louisville Board of Trustees.[24] Stocks for Papa John's fell 5.9% after the news broke.
Online, Twitter users made jokes about Schattner's resignation by giving him various characterizations. Twitter user @ribosomechomsky made a joke which made a Papa John/Pope comparison, gaining over 3,700 retweets and 16,000 likes (shown below, left). Twitter user @boring_as_heck made a joke that gained over 130 retweets and 1,900 likes (shown below, right).


Schnatter Sues Papa John's
On July 26th, 2018, Schnatter filed a lawsuit against Papa John's in which he stated that he had been "falsely accused" of using a racial slur, despite two weeks earlier saying ""News reports attributing the use of inappropriate and hurtful language to me during a media training session regarding race are true…"[25] It came out that Schnatter, while talking about the blowback against him, had said "Colonel Sanders called blacks n-----s" yet never faced public outrage. Schnatter also accused the board of Papa John's of acting too quickly in pressuring him to resign, perhaps as part of a "coup."
On Twitter, users joked about the strangeness of the situation with jokes about how "Papa John" is suing Papa John's. User @Sophia_HX posted a Spider-man Pointing at Spider-man joke (shown below, left), and user @MoistCr1TIKal joked that the situation was reminiscent of an anime, gaining over 1,600 retweets (shown below, right).


Reception
Papa John's is the third largest fast food pizza delivery and take out restaurant chain in the world. As of January 2016, the company has been valued at $2.2 billion.[17] By January 2017, Papa John's reached a record market cap of 3.2 billion[18] before settling back down to the early 2016 price range.[19]
Fandom
On November 6th, 2008, Papa John's launched the official Facebook [10] page. The social media account currently has more than 5.5 million likes and 5.3 million followers as of November 2017.
The following month, on December 29th, 2008, Papa John's launched the official @PapaJohns Twitter[11] account. As of November 2017, the account has more than 545,000 followers.
On February 21st, 2012, Redditor [12] SchmittBag started the /r/Papajohns subreddit. Within five and a half years, the subreddit has garnered more than 595 subscribers. On October 24th, 2017, Redditor[13] fluffykins posted a picture of a man with a Papa John's tattoo under the thread "First Tattoo."

Popularity in White Supremacist and Alt-Right Communities
Following Papa John's decision to scale back advertising on the NFL as a result of the #TakeAKnee controversy, the neo-Nazi and white supremacist website The Daily Stormer[14] posted a picture of a pizza with a swaztika made of pepperoni on November 2nd, 2017. The picture was captioned "Papa John: Official pizza of the alt-right?"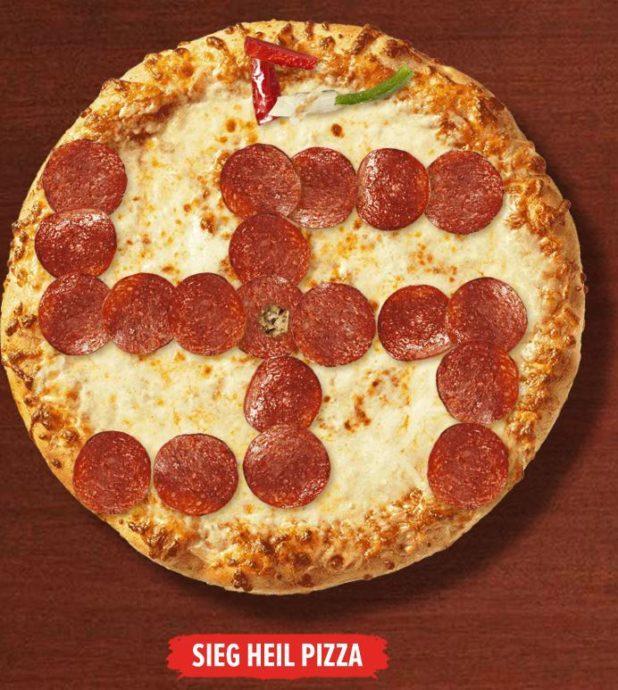 Papa John's released a statement to the Huffington Post.[15] The company said in a statement:
"We condemn racism in all forms and any and all hate groups that support it. We do not want these individuals or groups to buy our pizza."
That weekend, alt-right Twitter[16] personality Jack Posobiec continued the association between Papa John's and the alt-right by serving the pizza at his wedding rehearsal dinner. He tweeted a picture of Papa John's pizza with the caption "Rehearsal dinner with Papa Johns!" The tweet (shown below) received more than420 retweets and 2,600 likes.

Online, people mocked Posobiec for having fast-food pizza at his wedding rehearsal dinner as a means of "owning libs."


Urban Meyer Protest Troll
On August 1st, 2018 Ohio State University football coach Urban Meyer was placed on leave by the school for knowingly covering up spousal abuse allegations against assistant head coach Zach Smith, who was fired the week prior. [26] On August 6th, Ohio State fans protested outside of the school's stadium the decision to place Meyer on leave. That day, Mississippi lawyer Karen Howell trolled the protester by sending them a box of Papa John's pizza, playing on the chain's recent favor with alt-right and hate groups, as well as an earlier viral image of Meyer eating Papa John's after losing a football game. The moment was covered by BustedCoverage.[27]

Related Memes
H3H3's Papa Bless
"Papa Bless" is a catchphrase associated with Ethan Klein of H3H3Productions and reference to American pizza company, "Papa John's". It is often jokingly used to express gratitude to CEO John Schnatter and showing appreciation of kindness.

Search Interest
External References