About
NPC Wojak is a depiction of the MS Paint character Wojak with a blank stare and facial expression, named after non-player characters within video games. The character is meant to represent people who do not think for themselves or are incapable of having an internal monologue, bearing many similarities to the terms "basic" and "normie."
Origin
On July 7th, 2016, an anonymous 4chan user submitted a thread titled "Are You an NPC?" to the /v/ (video games) board,[5] which referred to people who "autonomously follow group thinks and social trends" as "NPCs" (shown below).

On September 5th, 2018, several threads were submitted to 4chan[7][8][9][10] discussing people who did not have an "inner voice." In the comments sections, many described those who do not have an internal monologue as "NPCs." On September 7th, a grey-colored variation of Wojak began appearing in threads about NPCs (shown below).[12]

Spread
On September 10th, 2018, Twitter user @SpookyStirnman[6] tweeted a comic in which Wojak is changed into an NPC, along with the message "All will be converted" (shown below).

On September 14th, Twitter user @brightabyss[3] posted a tweet accusing those who "refer to living humans as being NPCs" as being "facist" (shown below). Within 48 hours, the tweet received more than 170 likes and 25 retweets.

On September 15th, Twitter user @DreddByDawn tweeted that NPC was a "dog whistle" used by "fascists." The same day, Twitter user @Sharessan accused a centrist of being a "fascist in denial" after labeling them an NPC. Meanwhile, Twitter user @stackflow33 tweeted a screenshot of the tweets along with the message "What the fuck is even going on anymore? Lmao."[2]

Meanwhile, Twitter user @0x49fa98 posted an essay about the NPC memes on Thread Reader,[4] claiming that NPCs "instinctively turn away from avenues of heretical thought" and were "above all, safe." On September 17th, Lushsux posted a photograph of an NPC Wojak graffiti on Instagram[1] (shown below). Within seven hours, the post garnered more than 16,500 likes.

Kotaku Article
On October 5th, 2018, Kotaku[15] published an article titled "How the NPC Meme Tries to Dehumanize 'SJWS'," which argued that the meme was used by anti-progressives to turn their political opponents into "objects, pawns, strawmen, tools."
Twitter Accounts
On October 14th, 2018, Twitter user @josh_emerson tweeted a screenshot and spreadsheet of various NPC Wojak-themed Twitter accounts, referring to them as bots (shown below). Within 24 hours, the tweet gained over 800 likes and 580 retweets.
wow the trolls are taking this NPC thing so seriously they are now botting: pic.twitter.com/i44UT4cECY

— Josh Russell (@josh_emerson) October 14, 2018
Meanwhile, Twitter user @StormResist[13] posted a call for viewers to "report and block" the NPC accounts, claiming they were "providing misinformation and pretending to be Democrats or progressives" (shown below).

That day, the @SubsidiarityMan[14] Twitter feed accused Twitter of banning "hundreds of NPC accounts along with the hashtag #GreyLiveMatter (shown below).

Infowars Contest
On October 17th, 2018, Infowars launched a contest for viewers to win $10,000 for creating "the best Infowars-themed NPC meme,"[16] set to end the following week on October 22nd (shown below).
That day, a post[17] announcing the contest was submitted to 4chan's /pol/ board, where it gathered more than 300 replies over the next 24 hours (shown below). Meanwhile, a post about the contest was submitted by Reddit ella101 to /r/The_Donald.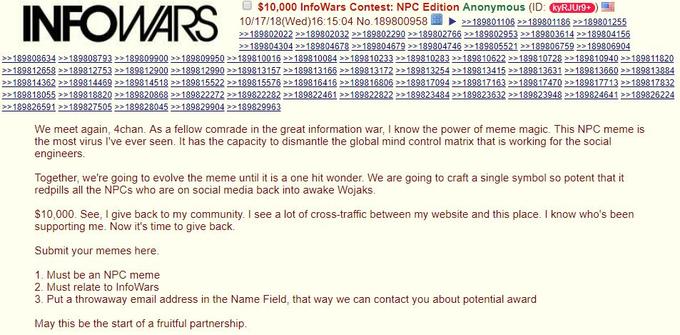 Search Interest
External References