This submission is currently being researched & evaluated!
You can help confirm this entry by contributing facts, media, and other evidence of notability and mutation.
About
People With Blue Eyes refers to an MS Paint drawing of a person with brightly colored blue eyes staring at the viewer with their arms folded. Posted to Twitter in early January 2022, the image spawned an exploitable meme format in which their eyes would get recolored, with the images often accompanied by humorous pop culture references.
Origin
On January 9th, 2023, Twitter[1] user @Pubby_Kat tweeted a simplistic drawing of a person with bright blue eyes and crossed arms looking directly at the viewer, captioning the image, "nobody: / blue eyed people:" The tweet accumulated over 6,100 retweets and 59,900 likes prior to being deleted (image and tweet shown below, left and right).


Spread
Prior to January 26th, 2023, the image saw limited spread online. For example, on January 22nd, 2023, Twitter[2] user @og_jujunwa tweeted the image next to an image of The Owl House character Raine Whispers, with the tweet gaining over 180 retweets and 1,400 likes in one week.
Also on January 26th, Twitter[3] user @bapyplup posted an edit of the image, recoloring the eyes green, captioned, "nobody: / people with green eyes:" The tweet garnered over 4,700 retweets and 55,500 likes in four days (shown below).

The post prompted more edits of the image to be posted in late January 2023. For example, on January 27th, Twitter[4] user @TricksayRicksay posted an edit referencing Elden Ring which gained over 40 retweets and 390 likes in three days (shown below, left). On January 28th, Twitter[5] user @mrcathacks then posted an edit in which the eyes were recolored brown, with the tweet garnering over 19,600 retweets and 170,000 likes in two days (shown below, right).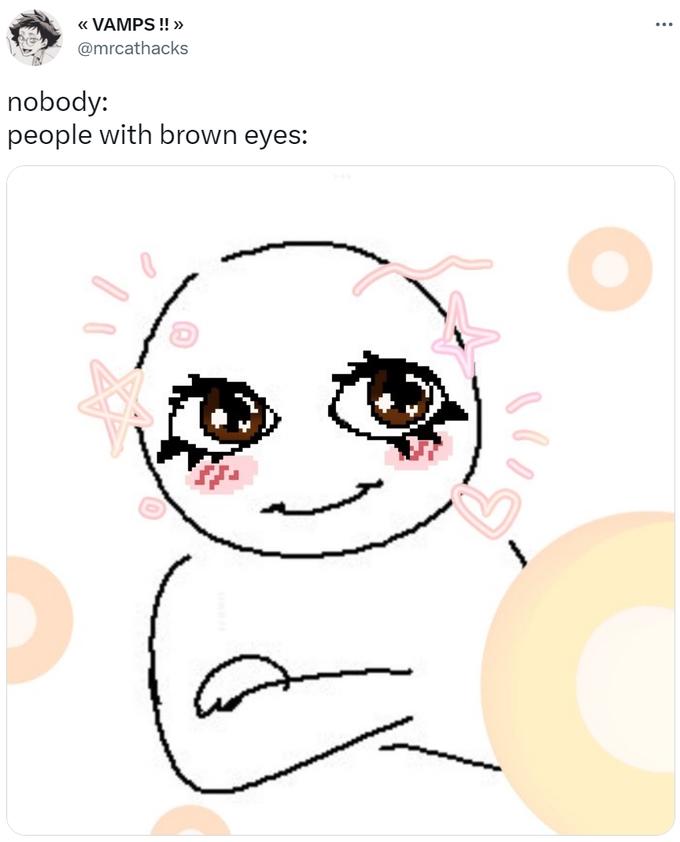 The format maintained its popularity on Twitter through late January 2023, with many edits referencing anime series, video games and other media franchises.
Various Examples






Template

Search Interest
External References
Recent Videos
There are no videos currently available.