How Do I Rotate Text in MS Paint?
This submission is currently being researched & evaluated!
You can help confirm this entry by contributing facts, media, and other evidence of notability and mutation.
About
How Do I Rotate Text In MS Paint? is a joke phrase which is used in image macros asking the viewer how to rotate text on the Microsoft Paint application. The line is typically used in pre-established exploitable meme templates where the usual punchline is a piece of text set at an angle. "How Do I Rotate Text In MS Paint" memes signify the creator was attempting to make such a meme but could not figure out how to set the text at an angle in MS Paint.
Origin
The phrase began seeing use in April of 2016. Likely the first post to use the phrase was posted in /r/me_irl[1] on April 27th, 2016 in an OK Bye Mom variation. In that template, the punchline is a google image search set an angle. TheSpiderBob's post instead used the phrase reading horizontally. The post gained over 12,000 upvotes (shown below).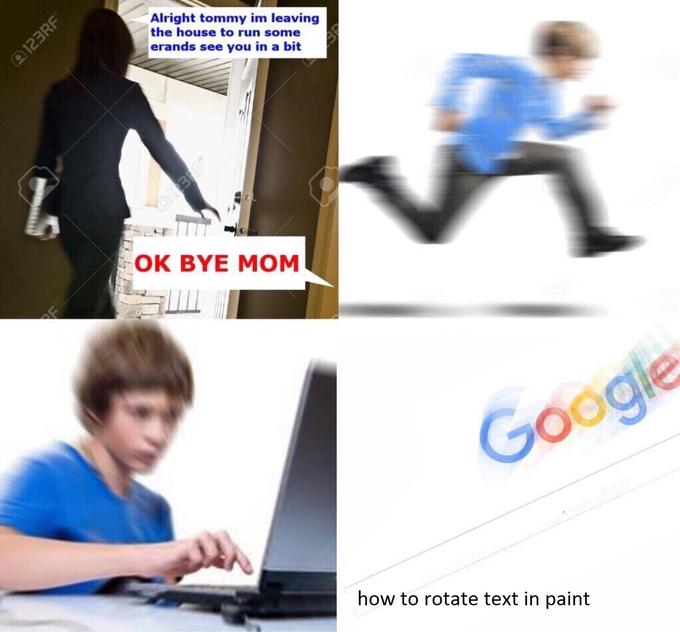 Spread
The following day, Tumblr user koobaxion[2] uploaded an image parodying the Where In the World Is Carmen San Diego? cover to make it read "How in the world do I rotate text in MS Paint?" (shown below). The image gained over 169,000 notes, thanks in part to a reblog by user alphaplayfree[3] with instructions on how to rotate text in MS Paint.

In the following years, the joke continued to appear in various exploitable templates. For example, a post by Tumblr user iavenjqasdf[4] applied the phrase to Oh Joy Sex Toy's "Cuck" Comic and gained over 5,000 notes (shown below, left). On September 20th, 2017, Redditor COOLFRY[5] posted an All the Pages Are Blank edit to /r/dankmemes and gained over 6,600 upvotes (shown below, right).


Various Examples






Search Interest
External References
Recent Videos
There are no videos currently available.