This submission is currently being researched & evaluated!
You can help confirm this entry by contributing facts, media, and other evidence of notability and mutation.
About
Flávia Big Big was a Brazilian comedian. The 26-year-old transgender woman became known on TikTok around March 2021 for posting comedy skit videos about her daily life and misadventures with friends and family. Fans of the creator often post Photoshopped images of Big Big and ironic memes of her on Instagram, Twitter and TikTok. In May 2023, she passed away due to cancer.
Online History
Flávia Big Big[1] started to create content on Instagram around March 2021. Although the videos have been since deleted, the Twitter[2] page @acervobigbig, dedicated to sharing clips of the Brazilian comedian, posted a video of Big Big dancing and being pulled by a kid with a stick on March 27th, 2021. The post (seen below) garnered 44,000 views and 34 likes in two years.
flavia big big dançando encima de um colchão e sendo puxado por um menino pic.twitter.com/8xdwspnZQj

— acervo big big (@acervobigbig) March 28, 2021
The LGBTQ+ creator gained meme notoriety while posting chaotic videos with her friends. For instance, on May 27th, 2021, a video (seen below) shared by Twitter[3] user @oblisvion showing Flávia Big Big being hit in the head with a brick while trying to speak English garnered 609,000 views and 26,600 likes in two years.
a gay quebrou um TIJOLO na cabeça dela e ela nem sequer piscou pelo amor pic.twitter.com/0HfGGDE9Nt

— lolly vômito (@oblisvion) May 27, 2021
Online Presence
As of June 2021, memes and parody videos featuring Flávia Big Big started to appear on social media. For example, on July 19th, 2021, a video of her riding a bike while Labyrinth's song "Still Don't Know My Name" plays was posted by @acervobigbig on Twitter,[4] garnering 375,000 views and 6,400 likes in two years (seen below).
cenas descartadas de Euphoria pic.twitter.com/iAoHMglofX

— acervo big big (@acervobigbig) June 13, 2021
The Brazilian also had a series of reaction images created by fans on Twitter.[5] For example, on July 28th, 2021, user @lucsfdf shared an image of Flávia with several raised-eyebrow emojis overlayed with a text in Portuguese saying "mimicking emojis." The post (seen below, left) garnered four likes in two years. Another image macro (seen below, right) was also posted to Twitter[6] by @acervobigbig on July 23rd, which received 1,000 likes and 131 retweets in two years.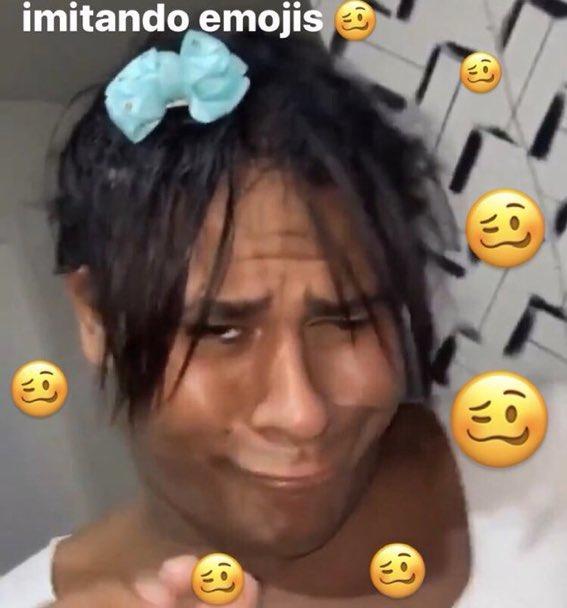 Before her death in May 2023, Flávia Big Big had amassed 304,000 followers on Instagram and 60,500 followers on TikTok.[7]
Personal Life
Since April 14th, Flávia Big Big had been hospitalized to treat advanced-stage cancer, which was diagnosed on March 5th, 2023. She posted an update on Instagram[8] about her health on March 18th, saying she was also battling anemia and lung problems. The post (seen below) garnered 84,000 likes and 3,700 comments in two months.
Flávia Big Big passed away on May 8th, 2023, as reported by her family to the news website UOL.[9]
Search Interest
External References