This submission is currently being researched & evaluated!
You can help confirm this entry by contributing facts, media, and other evidence of notability and mutation.
About
Leonardo DiCaprio is an American actor who has received critical acclaim for his performances in a number of films, most notably including What's Eating Gilbert Grape, The Basketball Diaries, Titanic, Django Unchained, Inception and Gangs of New York.
Career
In 1991, DiCaprio was cast in his first role as the character Josh in the science fiction horror film Critters 3 (shown below, left). That year, he began appearing as the recurring character Luke Brower in the television sitcom Growing Pains. In 1993, DiCaprio played the mentally handicapped character Arnie in the film What's Eating Gilbert Grape (shown below, right).
In 1996, DiCaprio played as Romeo Montague in director Baz Luhrman's film adaptation of William Shakespeare's Romeo and Juliet (shown below, left). The following year, DiCaprio starred as the character Jack Dawson in the romantic disaster film Titanic, the second highest grossing film of all time (shown below, right).
In 2002, DiCaprio starred as the protagonist Amsterdam Vallon in the historical drama film Gangs of New York (shown below, left). In 2010, DiCaprio portrayed the character Dom Cobb in director Christopher Nolan's science fiction film Inception (shown below, right).
Fandom
On August 13th, 2012, a page for DiCaprio was created on TV Tropes.[3] Additionally, a comprehensive page for DiCaprio is maintained on IMDB.[8]
DiCaprio Lookalike
On January 14th. 2016, the @EnglishRussia1[4] Twitter feed posted a photograph of a Russian man bearing a striking similarity to DiCaprio (shown below). The following day, Redditor OBiektyw1855 submitted the photo to the /r/funny[5] subreddit, where it received upwards of 5,700 votes (92% upvoted) and 1,200 comments in the first 24 hours.

Vaping at the SAG Awards
On January 30th, DiCaprio was spotted smoking a vaping pen on camera while sitting at a table during the 2016 Screen Actors Guild Award ceremony (shown below). While the actor's use of the vape pen was legally sanctioned under an exceptional clause that allows vaping on "theatrical production sites" in the city of Los Angeles, it prompted some viewers at home to call out his habit via Twitter, while the American Lung Association issued a tweet[9] rebuking the actor's vaping habit as "deeply troubling," according to the TMZ.[10] In the following days, several entertainment and celebrity news sites picked up on the news, along with additional paparazzi photos of DiCaprio vaping in public.

Online Presence
In April 2010, DiCaprio launched the @leodicaprio[1] Twitter feed, garnering upwards of 14 million followers in the next six years. As of February[6] 2016, DiCaprio's "Actor/Director" page on Facebook has accumulated over 13 million likes and his Instagram[7] feed has received more than 2.6 million followers.
Related Memes
Leonardo DiCaprio Gets Snubbed By Oscar
Leonardo DiCaprio Gets Snubbed By Oscar refers to a series of jokes regarding DiCaprio's noticeable lack of recognition by the Academy Awards, despite having been nominated three times throughout his acting career.

Strutting Leo
Strutting Leo is a photoshop meme featuring a photograph of DiCaprio walking merrily toward the camera while on the set of the 2010 science fiction film Inception. Examples of the meme typically superimpose DiCaprio's cutout image into various humorous contexts.

The Revenant Bear Rape Rumor
The Revenant Bear Rape Rumor refers to false claims that the protagonist Hugh Glass (played by DiCaprio) is brutally raped by a bear during a scene in the 2015 Western adventure film The Revenant. The rumor was widely circulated online after being mistakenly reported by the news aggregation website The Drudge Report.

We Need To Go Deeper
We Need To Go Deeper is an expression from the film Inception which is often featured in image macros and vertical multi-panes using screen captures from the movie. The phrase can indicate that further investigation is needed but can also be used to point out examples of recursion, in a similar vein to the Xzibit Yo Dawg image macro series.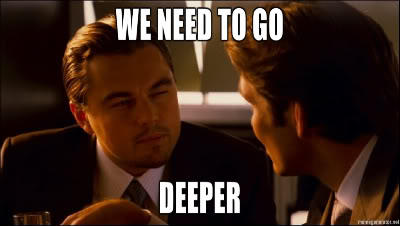 Personal Life
DiCaprio was born in Hollywood, California on November 11th, 1974. After dropping out of John Marshall High School in Los Angeles, he earned a general equivalency diploma (GED). In 2000, DiCaprio dated Brazilian model Gisele Bündchen. After the pair broke up in 2005, DiCaprio dated Israeli model Bar Refaeli. In 2011 and 2012, he had a brief relationships with actress Blake Lively and model Erin Heatherton. From 2013 to 2016, he was romantically tied to models Toni Garrn and Kelly Rohrbach.
Search Interest
External References