Leonardo DiCaprio's Oscar
About
Leonardo DiCaprio Gets Snubbed By Oscar refers to a series of jokes surrounding the American actor Leonardo DiCaprio and his noticeable lack of recognition by the Academy Award, the world's most prestigious accolade for excellence of cinematic achievements, despite having been nominated five times throughout his acting career prior to winning one, alongside already having international fame and critical acclaim for several decades.
The joke eventually met its demise in 2016, when Dicaprio won best leading actor during the 88th Academy Awards.
Origin
The earliest known media mention of DiCaprio's lack of Oscars came from an article published on E! Online on February 21st, 2011 titled "Do Oscar Voters Really Hate Leonardo DiCaprio?"[3] The article examines possible explanations to why DiCaprio hasn't won a statue. On November 8th, 2011, Funny of Die[1] uploaded a video titled "L. DiCaprio," a parody trailer of DiCaprio's film J. Edgar. The trailer depicts DiCaprio in a state of rage endlessly pursuing an Oscar The Academy refuses to award him.
Spread
In January 2012, the meme resurfaced on Tumblr after a clip from the 2012 Golden Globes showed DiCaprio looking forlorn[2], leading many to add captions imagining he was thinking about his lack of Oscar. GIFs of his movies are also often captioned so his character's anger or sadness is due to his lack of Oscars.

On March 2nd, 2014, DiCaprio did not win the award for Best Actor at the 86th Academy Awards ceremony for his performance in The Wolf of Wall Street. On the following day, BuzzFeed[4] highlighted several photos of DiCaprio's reaction to the announcement that Matthew Mcconaughey had won the award for his role in Dallas Buyer's Club (shown below).


Various Examples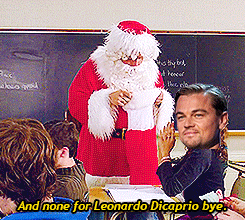 Bad Luck Leo
Bad Luck Leo is an advice animal image macro series based on the popular Bad Luck Brian that explains the unfortunate situations the characters DiCaprio has played have found themselves in. For example, his character in Titanic, Jack Dawson drowns on the boat after winning tickets just before it sails.

2016 Academy Awards
On February 28th, 2016, Dicaprio won best leading actor during the 88th Academy Awards for his role in the 2015 movie The Revenant, beating out Matt Damon, Bryan Cranston, Michael Fassbender, and Eddie Redmayne.[5]
On the same day, news of Dicaprio's victory was submitted to r/movies which gained over 34.000 point (98% upvoted), over 7.700 comments, and reached the frontpage of Reddit.[6]
Search Interest
External References