Varg Vikernes / Thulêan Perspective
About
Varg Vikernes born Kristian Larssøn Vikernes, sometimes known as Louis Cachet, is a Norwegian black metal musician best known for his work under the name Burzum between 1991 and 1996. After undergoing a 15-year stint in Nordic prison for arson and first-degree murder, Varg went on to become an internet figure promoting a pre-industrial European pagan society and opposing Christianity, Islam, Judaism, capitalism, socialism and materialism.
Background
Vikernes was primarily raised in Bergen, Norway with a mother that worked for an oil company, a father that worked as an electronic engineer and an older brother that became a civil engineer. In an interview for the book Lord of Chaos, an account of the early black metal scene's involvement in church burnings and murders in Norway, Vikernes describes his upbringing, noting tensions between him and his family on account of his father's worries about him being a Nazi and his mother's concerns about him "bringing home a black girl." Varg denies accusations of being a skinhead growing up, saying, "There were no skinheads in Bergen." Varg also describes a longstanding fascination with Lord of the Rings, which inspired his stage name Grishnakh, as well as his band Burzum.[1]


Career
Vikernes began playing guitar as a teenager, initially playing for the band Old Funeral before delving into his solo musical project, Burzum. He recorded four albums as Burzum between 1992 and 1993.[2] During his time working on Burzum, Vikernes also became entrenched in a group led by black metal band Mayhem's co-founder, "Euronymous." The group is largely held responsible for the burnings of several historic churches in Norway, the motives for which as Varg has noted in later interviews were not Satanic, but rather an act of revenge for the Christian desecration of older Viking graves and temples.[3] Varg spent a brief time in jail after admitting to arson but was released on lack of evidence.

Vikernes went on to stab Euronymous to death in August 1993. Varg claims to have done so in self-defense after hearing Euronymous's plan to torture and kill him. He was sentenced to 21 years in jail, Norway's maximum sentence, and after at least two separate failed attempts to escape,[4] he was released on probation in 2009.
Online Presence
YouTube
Varg Vikernes began posting videos to his YouTube channel "Thulêan Perspective," with his earliest videos dating back to April 2013, and featuring his work in ambient Nordic folk music (seen below). Other early uploads promoted his RPG book MYFAROG: Mythic Fantasy Role Playing Game. In October 2014, Varg posted his earliest known video featuring his face. It was titled, "A video response to Thrand" and featured Varg explaining his preferences for throwing weapons (seen below).[5]
By 2019, Varg had gathered over 250,000 subscribers to his YouTube channel, which was subsequently banned in June 2019 after Varg had difficulties with the French authorities.[6]
Twitter
Varg also maintained a presence on Twitter, initially under the handle @GandalftheWhi19, another reference to LOTR, and under the username @WargarW after 2020. He used the platform to express his personal views regarding his Scandinavian pagan identity and his personal life with his French wife Marie Cachet and their seven children.[7]
Varg is also known for his liberal use of the word "foreskin," especially when it comes to disparaging his "foreskinless" Christian, Muslim and Jewish opponents. On February 9th, 2021, Twitter[8] user @JustinWhang posted a series of screenshots where Varg can be seen admonishing people for not having a foreskin. The tweet gathered over 3,800 likes in two years (seen below).

Various Examples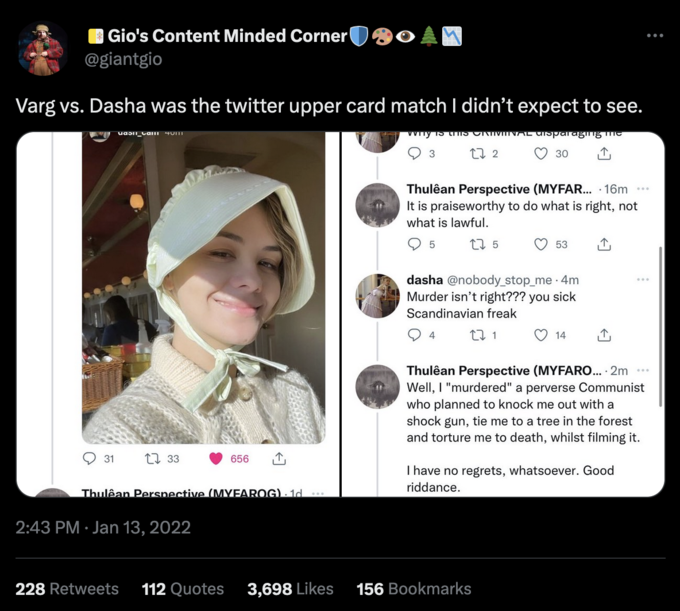 Search Interest
External References