About
Yung Lean is the pseudonym of Jonathan Aron Leandoer Håstad, a rapper from Sweden and the frontman of the Sad Boys collective. Known for his dreamy beats and lyrics focused on American pop culture references, like Arizona Iced Tea, Lean grew a cult following throughout the 2010s and 2020s, pioneering Meme Rap (despite his music's increasingly serious undertones). Lean gained much of his notoriety after releasing his video "Hurt" in June 2013. He's also known in conjunction with the Drain Gang collective which includes one of his closest collaborators, Bladee.
Memes about Yung Lean have appeared across all platforms, mostly using his likeness as a background for image macros. In 2022, his song "GInseng Strip" was used on TikTok, increasing his notoriety online.
Online History
Yung Lean uploaded his first video, titled "Greygoose," to his YouTube channel[2] on February 5th, 2013. The black-and-white music video features Lean rapping while looking out across a city. As of June 2014, the video has gained over 160,000 views.
Lean continued to upload rap videos throughout 2013, including "Oreomilkshake" on April 29th and "Racks on Racks" on June 17th.
"Hurt"
On June 18th, 2013, Yung Lean uploaded what would be his breakout video titled "Hurt." The video features a background similar to a Windows 97 screensaver and heavy product placement by brands and items popular in the late '90s and early 2000s such as Pokemon cards and Game Boy Color. Within a year, the video gained over 1.7 million views. The song was featured on Lean's Debut mixtape, Unknown Death 2002, which was released on July 9th, 2013, with Mishka,[1] a Brooklyn clothing brand.
The video was covered by several sites that month including Vice[3] and Animal New York.[4] On July 14th, 2013, the subreddit /r/sadboys[9] was created by Redditor d4rkhorizoN. As of June 2014, the subreddit had gained over 3,000 views.
White Marble Tour
On January 26th, 2014, Lean uploaded a video announcing the White Marble tour he'd be going on with the Sad Boys in 2014. Within six months the video gained over 50,000. The tour began in Copenhagen on March 12th, 2014, making 27 stops within a month.
On June 18th, 2014, Lean announced her Black Marble Tour in the US and Canada on his Facebook page.[7] In less than a month the post gained over 3,000 likes. The tour will begin on July 14th, 2014, in Raleigh, North Carolina, and runs for 15 stops finishing in New York City in September. On June 30th, he announced the final day of the tour, September 7th, was already sold out.

Nardwuar Interview
A pivotal moment in Yung Lean's virality was his interview with Nardwuar the Human Serviette, posted to YouTube on July 24th, 2014. In the video, Yung Lean is on his first-ever tour, accompanied by Yung Sherman, Yung Gud and Bladee when answering Nardwuar's questions. The video (shown below) received roughly 1.8 million views over the course of seven years.
Origin in Memes
In January 2014 is when buzz surrounding Yung Lean started to percolate within memes. For instance, on January 27th, 2014, Twitter[15] user uriel__url posted a tweet that read, "yung lean at my wedding," earning seven likes (shown below). Although this isn't the first tweet about Yung Lean online, it is one of the first examples with a humorous tone.

On Reddit, the /r/sadboys[16] subreddit was created on July 29th, 2013, however, the first post[17] to the subreddit wasn't until May 5th, 2014. On May 12th, a photo was posted to the subreddit[18] showing Yung Lean hugging a body pillow of Rei Ayanami from Neon Genesis Evangelion. The photo was shared first to Tumblr,[19] however, where it received roughly 7,000 notes (shown below).

Maybe the first meme made about Yung Lean and the Sad Boys was posted to /r/sadboys[20] by Redditor drwallmano on November 1st, 2014. It used the They Don't Know format and earned over 120 likes in seven years (shown below).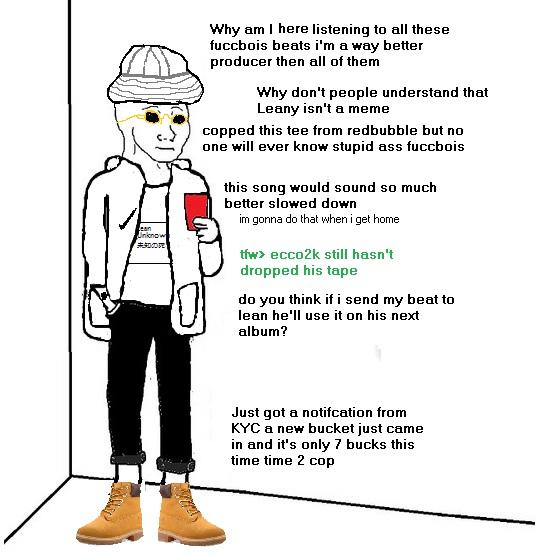 Notable Tracks
Search Interest
External References