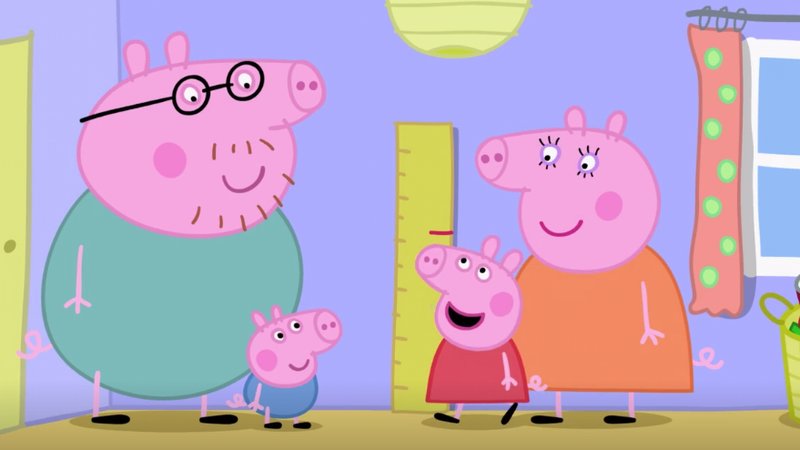 About
Peppa Pig's Height refers to a Fandom Wiki page that reveals cartoon character Peppa Pig's height to be over seven feet tall.
Origin
On July 20th, 2019, Twitter user @Memeulous[2] posted a screenshot of results of a google search captioned, "this is terrifying" (shown below). The Tweet gained over 225,300 likes and 44,600 retweets in two days.

Spread
Although, the Peppa Pig Fandom Wiki[1] page actually documents Peppa's height as just under four feet, Twitter users continued to react as if the oversized height were fact. On July 20th, 2019 Twitter user @reedushiddles[3] posted the same screenshot with the caption "rt if you're shorter than peppa pig" (shown below, left). The tweet garnered over 89,400 likes and 76,700 retweets in two days. Twitter user @Lammy_42_[4] tweeted that they "Need a man who's the same height as peppa pig" which garnered over 5,200 likes in two days (shown below, center). That same day, Twitter user @Joae20065719[5] posted screenshots of the different heights listed for the cartoon pig online saying, "Gonestly my mood changes more than peppa pigs height" (shown below, right). The tweet gained over 3,700 likes in two days.



Harley Bird's Response
On July 29th, 2019, Vulture[6] spoke with Peppa Pig voice actress Harley Bird. During the interview asked about the height memes. Bird replied:
Isn't that funny? Seven-foot-one! It's crazy. I guess it's just the Peppa Pig costume. But I don't know if she is. I think Peppa comes in all different sizes and heights. It all depends. It's funny though. So many people have been sending me that. I truly have no idea what to say. I just usually laugh.
Various Examples






Search Interest
External References
Recent Videos
There are no videos currently available.