Queensland Rail Etiquette Posters
About
Queensland Rail Etiquette Posters is a poster ad campaign launched by Queensland Rail to educate the public about behavioral problems commonly experienced on trains in Queensland, Australia. In response to the campaign, several parody images mocking the original posters began spreading on various sites across the web.
Origin
In September of 2011, Queensland Rail[1] launched a series of public service announcement posters to educate passengers about inappropriate behaviors commonly reported by the commuters. On March 28th, 2012, Queensland Rail launched a web application[4] that allowed users to make their own etiquette posters with custom text and share the finished image on social media websites.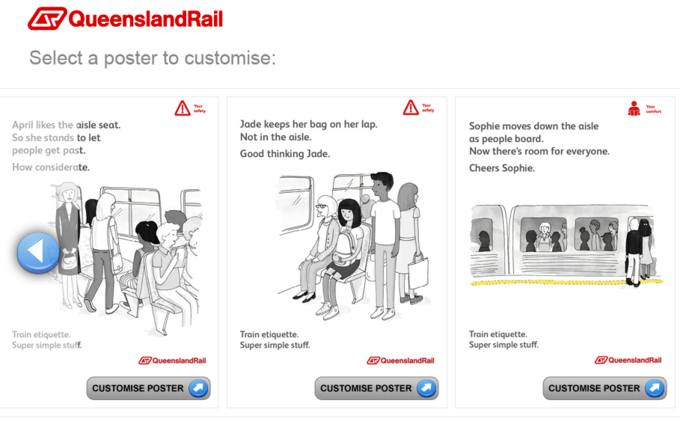 Spread
On January 30th, 2012, the webcomic Cynacism on Demand[9] published a parody comic featuring an inebriated commuter urinating on himself (shown below). Within four months, the post received over 1,150 notes on Tumblr. On May 3rd, Redditor gabbyssquishy submitted a post titled "Australian train etiquette", which featured an illustration of a man sitting on a train with the caption "Jim sits on the quiet carriage. He shuts his goddamn mouth. Good on you Jim" (shown below, right). Within two months, the post received more than 11,950 up votes and 365 comments.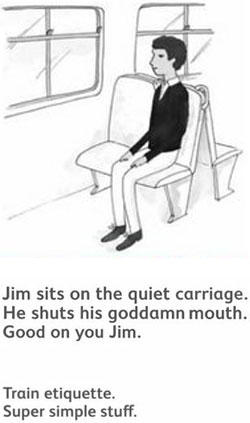 On May 9th, the Australian news site Courier Mail[7] published an article titled "Joke Queensland Rail Train Etiquette Posters Go Viral", which reported the parody images had begun spreading across International boundaries online. On June 21st, Redditor dolani submitted a post to the /r/funny subreddit titled "Good thinking Jade", containing a poster about a transsexual hiding her erection with a backpack. The same day, Redditor Artegan submitted a post titled "Sam was thinking…", including a poster of a man standing on a train platform while contemplating suicide (shown below, right).


Also on June 21st, the Internet humor site College Humor[8] published a slideshow of notable parody posters. On June 22nd, the /r/queenslandrail[10] subreddit was created by user rlode6762, providing a place where Redditors could share their own parody posters. Also on June 22nd, Something Awful Forum[6] member Greggster submitted a thread titled "Train etiquette – Simple stuff according to Queensland Rail", in which several example images were posted along with links to the original PDFs.
Notable Examples




Criticism
Shortly after the launch of /r/queenslandrail, Redditor rdb33 submitted a post titled "Good move, Adam", featuring a drawing of a man sitting at a computer with a caption criticizing the overuse of Queensland Rail parodies (shown below).

Search Interest
External References
Recent Videos
There are no videos currently available.