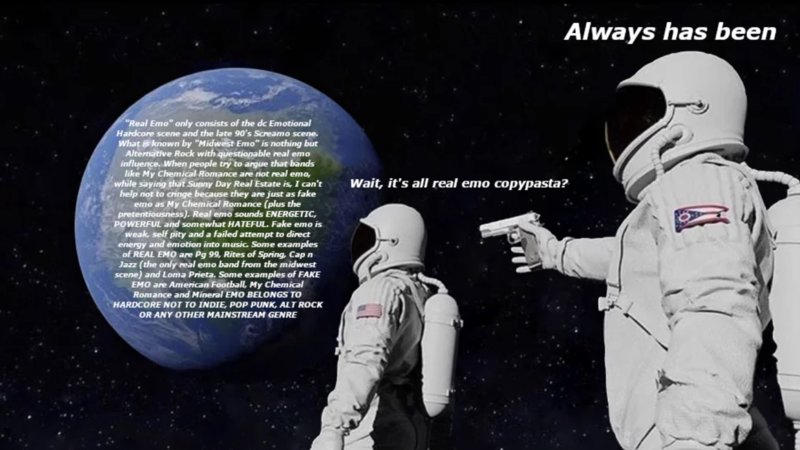 This submission is currently being researched & evaluated!
You can help confirm this entry by contributing facts, media, and other evidence of notability and mutation.
About
"Real Emo" Copypasta refers to a screed made to parody emo music purists who believe the genre only consists of emotional hardcore bands while other acts that have garnered the label (such as the gentler, more melodic bands of the '90s and popular acts of the 2000s) are "fake emo." The copypasta has been widely reproduced and parodied since it was first posted in 2017, spreading online over the following years.
Origin
On January 7th, 2017, the Facebook page "Memelords against furries and fake emo,"[1] a satirical page poking fun at emo purists, posted a lengthy rant about what constitutes "fake" and "real" emo. The post reads:
"Real Emo" only consists of the dc Emotional Hardcore scene and the late 90's Screamo scene. What is known by "Midwest Emo" is nothing but Alternative Rock with questionable real emo influence. When people try to argue that bands like My Chemical Romance are not real emo, while saying that Sunny Day Real Estate is, I can't help not to cringe because they are just as fake emo as My Chemical Romance (plus the pretentiousness).
Real emo sounds ENERGETIC, POWERFUL and somewhat HATEFUL. Fake emo is weak, self pity and a failed attempt to direct energy and emotion into music.
Some examples of REAL EMO are Pg 99, Rites of Spring, Cap n Jazz (the only real emo band from the midwest scene) and Loma Prieta.
Some examples of FAKE EMO are American Football, My Chemical Romance and Mineral
EMO BELONGS TO HARDCORE
NOT TO INDIE, POP PUNK, ALT ROCK OR ANY OTHER MAINSTREAM GENRE
The post gained over 170 reactions and 60 shares in roughly six years.
Spread
On March 10th, 2017, the copypasta was then reposted to Reddit's /r/copypasta[2] subreddit, gaining over 150 points in six years. The copypasta continued to grow infamous among fans of emo music, eventually leading to the creation of merchandise with the copypasta printed on it (examples shown below).


The copypasta has also been parodied and referenced in numerous memes over the years. For example, on April 30th, 2020, YouTuber Rhizome 471 posted a parody of "Never Meant" set to the copypasta, gaining over 41,000 views in nearly three years (shown below, top). On March 8th, 2023, Twitter user @drewberinger joked that a video of a man chatting to WWE wrestler Liv Morgan at a basketball game was reciting the copypasta, gaining over 230 likes in one day (shown below, bottom).
"Real Emo" only consists of the dc Emotional Hardcore scene and the late 90's Screamo scene. What is known by "Midwest Emo" is nothing but Alternative Rock with questionable real emo influence. When people try to argue that bands like…
pic.twitter.com/3qg4kn62Mg

— Drew Beringer (@drewberinger) March 8, 2023
Search Interest
External References