About
Respect Women is an object labeling image macro series featuring pictures that are ironically captioned with jokes about how the subject represents their "respect" for women.
Origin
On August 26th, 2016, comedian Brandon Wardell tweeted a video in which he said it was "respecting women hours," in reference to the meme "real nigga hours" (shown below).
it's. tru. gd. mf. respecting. women. hours pic.twitter.com/UTkEjlFAqH

— BRANDON WARDELL (@BRANDONWARDELL) August 26, 2016
Spread
On January 8th, 2017, Twitter user @rudy_mustang[6] tweeted several parody "codes" used by teenagers, which included "RWMD" for "respect women my dude" (shown below). Within four months, the tweet gathered upwards of 1,500 likes and 650 retweets. On February 7th, the SPLASH CLUB 7 Facebook[4] page posted a phone screenshot of a notification to "respect women" at 4:20 (shown below).


On April 1st, Twitter user @Rasengawn[2] uploaded a photoshopped picture of Spongebob Squarepants holding a to:do list with "respect women" filled in for each time slot (shown below, left). Within one month, the tweet gained over 1,700 likes and 870 retweets. On April 25th, 2017, the @RespectfulMemes[1] Twitter feed posted a picture of professional wrestler Steve Austin (a.k.a. "Stone Cold") drinking several beers at once labeled "respect women juice" (shown below, right).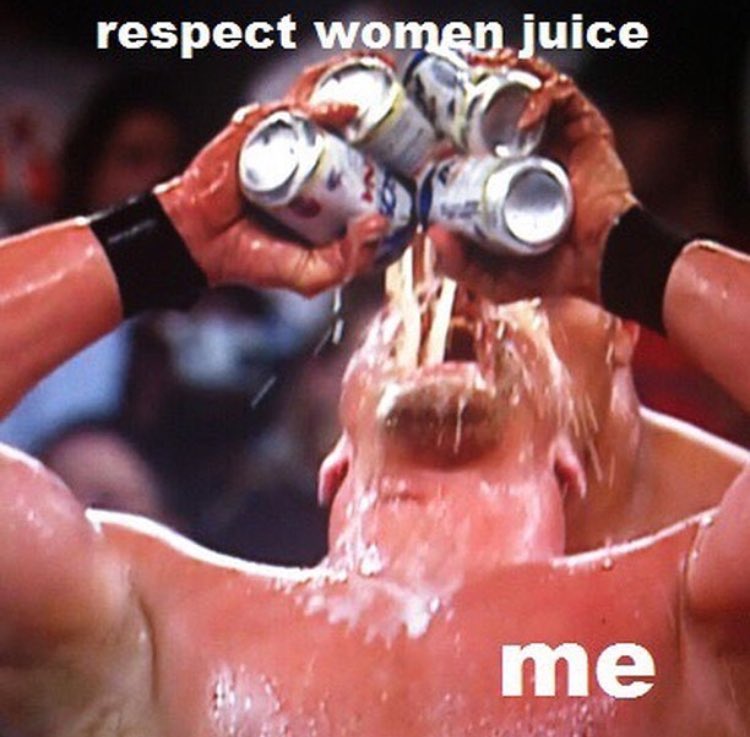 On May 2nd, the Eric's Creamy Memes Facebook page posted a picture of a man spraying water labeled "respect" at a dog labeled "women" (shown below, left). Within 72 hours, the post gathered more than 4,900 reactions, 2,500 shares and 550 comments. The following day, Redditor Low_Rezz submitted a picture of a soldier tossing a hand grenade labeled "respect women" to /r/MemeEconomy[3] (shown below, right).


Various Examples






Search Interest
External References