This submission is currently being researched & evaluated!
You can help confirm this entry by contributing facts, media, and other evidence of notability and mutation.
About
Rihanna Is Jamaican, also known under the hashtag #RihannaIsJamaican, is a mock debate about the nationality of recording artist Rihanna, with many jokingly claiming her to be from Jamaica, despite her being from Barbados.
Origin
On October 9th, 2019, Twitter [1] user @DavidEatsViagra tweeted, "Jamaicans, you know, if we pretend like Rihanna is Jamaican, the world will believe us, and there is nothing Bajans can do about it. Let's kidnap Rihanna's nationality, y'all." The tweet received more than 29,000 likes and 6,500 retweets in less than one week (shown below).

Spread
That day, Twitter[2] user @CRUELCASSIUS tweeted a thread of "Rihanna embracing her Jamaican heritage." The post received more than 22,000 likes and 4,800 retweets in less than one week (shown below).

Additionally, that day, Twitter[3] user @twittatimes tweeted, "#RihannaIsJamaican Remember when…," becoming the first known use of the hashtag (shown below).

Following the emergence of the hashtag, many others began posting various tweets about Rihanna being Jamaican. For example, Twitter[4] user @mikey_esquire tweeted," The good sis Rihanna, representing the black green and gold of her native land, Jamaica on the world stage. Truly a global ambassador for our tiny Caribbean island. #RihannaIsJamaican." The tweet received more than 1,100 likes and 345 retweets in less than one week (shown below, left).
Throughout the week, others began sharing jokes about the mock debate (examples below, center and right).
Several media outlets reported on the memes, including PopBuzz,[5] GlobalVoices,[6] Paper[7] and more.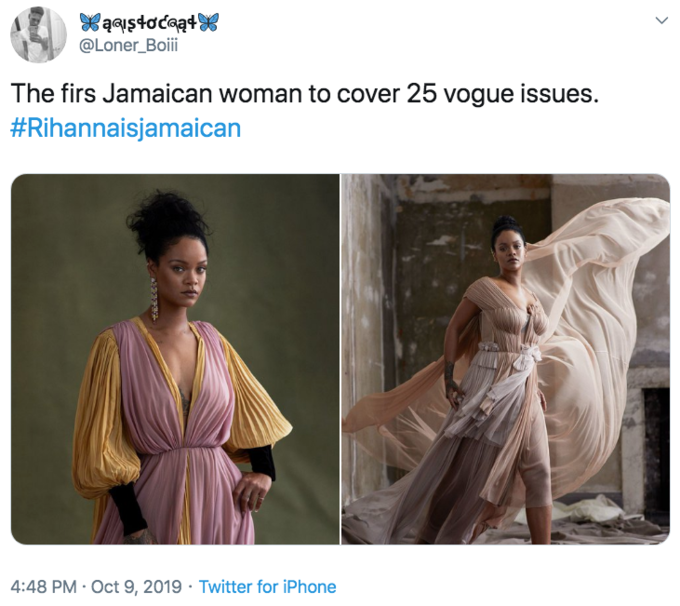 Various Examples






Search Interest
External References
Recent Videos
There are no videos currently available.