Shoggoth with Smiley Face (Artificial Intelligence)
This submission is currently being researched & evaluated!
You can help confirm this entry by contributing facts, media, and other evidence of notability and mutation.
About
The Shoggoth with Smiley Face is a catchphrase and slang expression relating to the field of artificial intelligence that uses smiley faces and Lovecraftian Cthulhu imagery to describe the notion that conversational AI tools' true powers are being masked in order to allow commercial public consumption. Shoggoth with Smiley Face imagery became popularized on Twitter and LessWrong forums in late 2022 and early 2023 to describe the effect of tools like RLHF (Reinforcement Learning From Human Feedback) that aim to make AI tools more palatable for commercial use.
Origin
A shoggoth is a fictional monster created by H.P. Lovecraft and is part of the Cthulhu Mythos. Shoggoths were first described in detail in his novella At the Mountains of Madness in 1931 (excerpt shown below, top, example image below, bottom).[1]
It was a terrible, indescribable thing vaster than any subway train — a shapeless congeries of protoplasmic bubbles, faintly self-luminous, and with myriads of temporary eyes forming and un-forming as pustules of greenish light all over the tunnel-filling front that bore down upon us, crushing the frantic penguins and slithering over the glistening floor that it and its kind had swept so evilly free of all litter.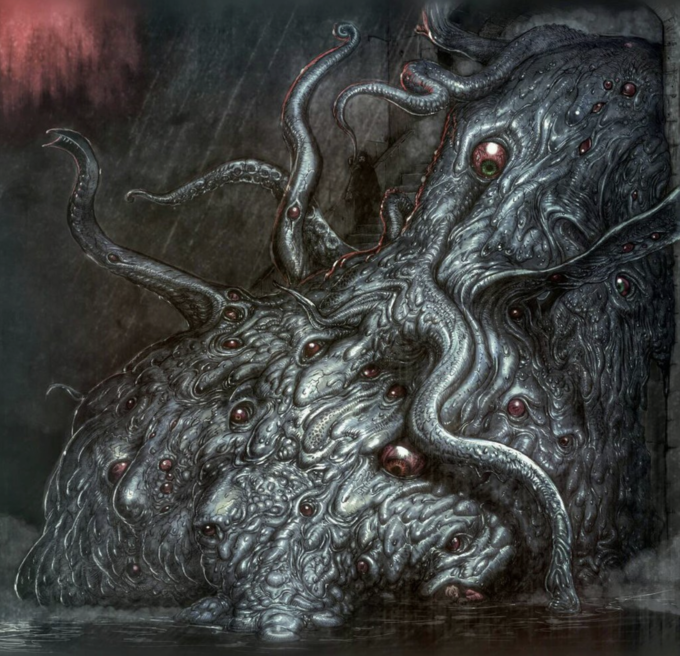 In late 2022, artificial intelligence enthusiasts began discussing the use of Reinforcement Learning From Human Feedback (RLHF) in GPT-3, and the creation of the ChatGPT chatbot. RLHF was used for ChatGPT as a way of fine-tuning the AI with repeated instructions in order to make it more conversational and provide more useful responses.[2]

On December 30th, 2022, Twitter[3] user @TetraspaceWest posted the earliest known visual interpretation of AI-as-shoggoth and RLHF-as-smiley-face. The post gathered over 600 likes in over two months (seen below).

Spread
On January 14th, 2023, Twitter[4] user @repligate posted a Shoggoth with Smiley Face meme, gathering over 200 likes in over a month (seen below, left). On January 26th, Twitter[5] user @AlvaroDeMenard then posted a meme referencing the aforementioned meme but replacing shoggoth with the Leviathan from Hobbesian philosophy. The post gathered 81 likes in over a month (seen below, right).


On February 5th, 2023, Twitter[6][7] user @anthrupad posted two visual interpretations of AI-as-Shoggoth and Shoggoth with Smiley Face, the latter post gathering over 400 likes in over a month (seen below).


On February 22nd, 2023, Elon Musk tweeted[8] a Shoggoth With Smiley Face meme, alongside text that read, "As an AI language model, I have been trained to generate responses that are intended to be helpful, informative, and objective…" The post gathered 72,000 likes before it was deleted by Musk (seen below).

Various Examples






Search Interest
External References
Recent Videos
There are no videos currently available.