This submission is currently being researched & evaluated!
You can help confirm this entry by contributing facts, media, and other evidence of notability and mutation.
About
General Zoi's Pony Creator is an Flash-based game which allows users to design their own original characters in the style of characters from the Hasbro animated series My Little Pony: Friendship is Magic. The game is famous for being easy and widely used, but has also gained considerable notoriety for its easily recognizable style and often poor results.
History
The game was first uploaded to the art sharing website DeviantArt in 2011 by its creator, Haley Reeve, also known as generalzoi.[1] The Pony Creator has been updated over the years; its current version is v3. An app version for the Android operating system was released on December 2, 2014.[2]
Features
The Pony Creator allows the user to easily create their own pony in the style of My Little Pony: Friendship is Magic. Users can change details such as size, mane styles, and color. Several accessories are made available, and users can import their own "cutie marks" to use on their pony. Created ponies are able to be posed in a variety of positions and can be saved and shared via codes.

Reception
Pony Creator was initially well-received. It was praised for its extensive options compared to other pony creator simulations available at the time. A 2011 article on the My Little Pony fan website Equestria Gaming gave the game a positive review.[3] However, the game has been criticized for its overuse and has been seen by some as a crutch for those who do not want to improve their artistic skills.[4][5]
Pony Creator has been used for various projects; one of the most notable works to use the creator are the videos by the YouTube channel BronyDanceParty, whose videos have been viewed over 38 million times since 2011.[6]
Example Ponies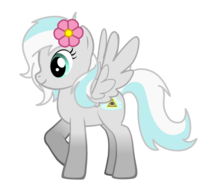 Search Interest
References
Recent Videos
There are no videos currently available.