This submission is currently being researched & evaluated!
You can help confirm this entry by contributing facts, media, and other evidence of notability and mutation.
About
Wattpad is a website where people can read and write original stories. It was founded by Allen Lau and Ivan Yuen in 2006 and has gathered over 90 million users as of 2020. The website is most commonly associated with romance fiction with several Wattpad stories being published and adapted into major films. Wattpad is also strongly associated with fanfiction and "Y/N imagines," where the writer allows the reader to insert themselves into the story by replacing their name in the place of the placeholder, which stands for "your/name." Stories on the website are often considered to be rife with clichés and tropes, with boybands like One Direction and various YouTubers being popular subjects of fanfction around the year 2012.
Background
Wattpad was founded by Allen Lau and Ivan Yuen in 2006 and is based out of Ontario, Canada. By June 2009, the android app had been downloaded over 5 million times, with an iPhone app being released in March 2009. By 2019, the app had gathered over 90 million users who spend over 15 billion minutes each month using the literature portal. As of 2019, there were more than 400 million fanfiction uploads on the website.[1] 80% of all Wattpad users are female, of which 80% are Millennial or Gen Z women and teens.[2]
Online Presence
Fanfiction
Wattpad is a popular destination for readers of fanfiction, with various Wattpad-famous stories going on to receive mainstream publishing and film success. A notable example of this is the After series by Anna Todd, which Wattpad originally hosted in the form of a "Harry Styles" fan fiction. It currently has over 710 million reads.[3] The story became the most-read book on Wattpad and went on to become a New York Times Best Seller.[4] In 2019, the book was adapted into a commercially successful, though critically panned, feature-length film, grossing over $69 million against a $14 million budget. A trailer for the movie can be seen below.[5]
Popular Culture
Wattpad literature is often deemed to be low-brow teen romance, with people using the phrase "straight out of Wattpad," or "Wattpad romance" as a means to convey wish fulfillment, stereotypical or clichéd character development, cringey or predictable tropes and other hallmarks of simplistic fanfiction literature.
On April 19th, 2017, Twitter[6] user @thesharkfiend posted a tweet that read, "me: hi / wattpad fanfic writer: im an orphan and the popular girls bully me, but my favorite youtubers adopt me and they spoil me," gathering over 1,000 likes in over five years (seen below, left). On May 3rd, 2017, Twitter[7] user @buffysummere quoted tweeted J.K. Rowling, saying, "why does this read like an fanfic author's note on a wattpad fic from 2007," gathering over 6,000 likes in over 5 years (seen below, right.


On August 30th, 2018, Twitter[8] user @lgbtgarfield quoted tweeted Noah Centenio, saying "why does y'alls man tweet like he's out of 2012 wattpad," gathering over 72,000 likes in over four years (seen below, left). On December 27th, 2018, Twitter[9] user @NamjoonNila posted a tweet that read, "Every Y/n wattpad bitch looked like this / But she wasn't like other girls." The post gathered over 17,000 likes in over four years (seen below, right).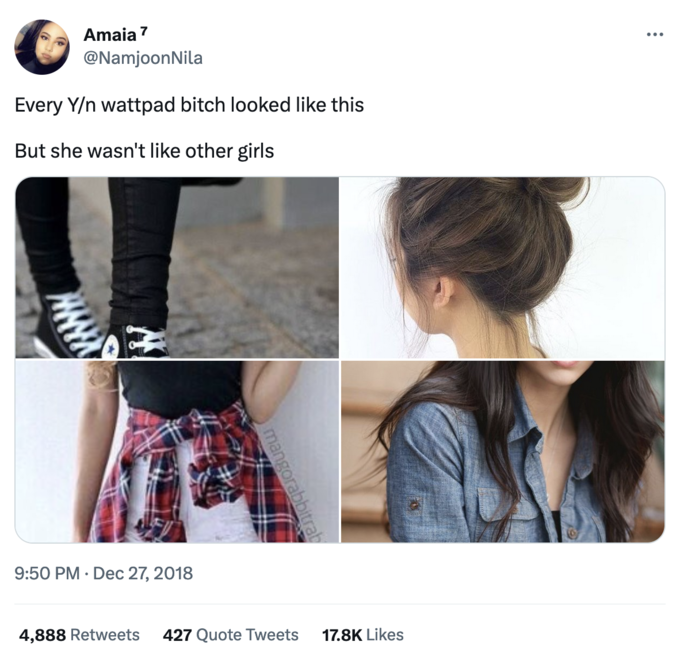 Various Examples






Search Interest
External References
Recent Videos
There are no videos currently available.