Scrappy Doo Found Dead In Miami
About
Scrappy Doo Dead In Miami refers to jokes about a piece of Scooby Doo fanfiction which opens with the Scooby Doo character Scrappy Doo murdered in Miami, Florida. The story spread as a meme in a similar fashion to "You Mean The Chaos Emeralds?"
Origin
On January 22nd, 2011, Fanfiction.net user WakeGirl14 uploaded a story titled "Darkly Dreaming Scooby,"[1] which mashes up Scooby Doo and the serial killer drama Dexter. In the summary of the story, she writes, "Scrappy Doo has been found dead in Miami, and Dexter and the team are on the case! Who killed him? Why was he killed? More importantly, are Daphne and Fred married? Find out all the bloody details in this wonderful gruesome fan fiction."
Spread
On June 4th, 2014, Twitter account fanfiction_txt[2] tweeted the line "Scrappy Doo has been found dead in Miami," gaining over 19,000 retweets and 21,000 likes (shown below).

On November 24th, 2015, Tumblr user lymphonodge[3] posted the line, then responded to a commenter asking if Scrappy Doo was okay with the phrase "hes alright but he died." The post gained over 220,000 notes (shown below).

In the ensuing years, the phrase would see continued use in Twitter shitposts. For example, on December 5th, 2017, Twitter user @Vedmak00[4] posted an ASCII Art drawing with the phrase, gaining over 300 retweets and 900 likes (shown below, left). On August 30th, 2017, Twitter user @spacetwinks[5] posted a Tired / Wired joke about the phrase, gaining 14 retweets and 50 likes (shown below, right).


Various Examples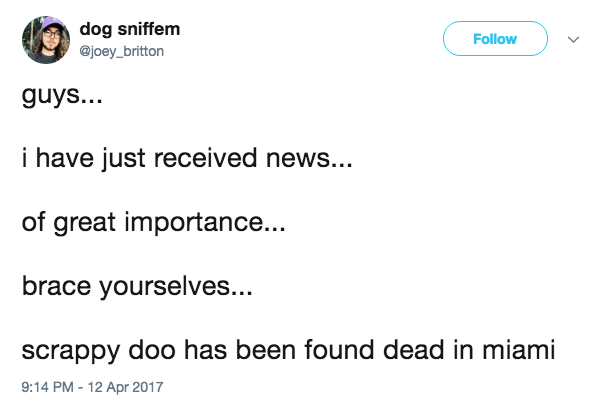 Search Interest
Unavailable
External References