About
Bayonetta is a third person action game, released in 2009. The game is set in Vigrid, a fictional city in Europe, and follows Bayonetta, a witch who can wield a handgun from each limb, as she uses her magic to fight various enemies. The game's titular character also featured in Nintendo's Super Smash Bros 4 roster. Since its release, the game has gathered generally favorable acclaim for its visuals and gameplay.
History
Bayonetta 1 and 2
Bayonetta began development in 2007 and was completed in 2009. Mari Shimazaki designed the game's characters to be "fashionable", with "subdued" features.[1] She designed the titular character to fulfill Kamiya's request for a modern, female witch that wears glasses and wields four guns.[2] The game's director Hideki Kamiya had been looking to improve third person action games from the last time he attempted one (Devil May Cry), and as a result Bayonetta includes multiple references to the DMC series as well as to Clover Games. The official trailer for the first Bayonetta was released by Sega Europe's YouTube[11] channel on January 8th, 2010, and has gathered over 200,000 views in over ten years (seen below).
Bayonetta 2 was announced September 13th, 2012[3] as a Wii U exclusive. At Nintendo's 2014 E3 event, it was announced that Bayonetta 2 would come bundled with a port of the original Bayonetta.[5] Bayonetta 2 was released to critical acclaim.
Bayonetta 3
Bayonetta 3 was officially announced by Nintendo during The Game Awards 2017 presentation on December 7, 2017[9] with a teaser trailer, along with Nintendo Switch ports of the first two Bayonetta games. The first official trailer for Bayonetta 3 was revealed during the Nintendo Direct broadcast on 23rd Sept, 2021,[10] where the game was confirmed to be releasing in 2022. The trailer for the third installment in the game can be accessed via Nintendo's official YouTube account, where it gathered over 3 million views since it's upload on September 23rd, 2021 (seen below).
Gameplay
Bayonetta is a single-player, third-person 3D action game. Its combat system is similar to that of director Hideki Kamiya's previous title, Devil May Cry. The player controls a witch named Bayonetta, and using both melee and long ranged attacks, complex combo strings, and multiple weapons, is encouraged to explore ways to dispatch angelic enemies with as much flair as possible. Special commands or actions are woven into events, finishes, executions, and unique "Torture Attacks" in which Bayonetta summons a variety of devices to deal devastating blows to her enemies. Such devices range from chainsaws to iron maidens.
Anime

Bayonetta: Bloody Fate is a 2013 anime produced by Studio Gonzo. It is the first piece of Bayonetta media to have Japanese Voice actors, as the original game was exclusively in English. It recreates the story of the first game, with some minor changes to the story. On June 18th, 2014, Funimation announced it had obtained the rights to the film and will be releasing the English dub latter that year.[4]
Reception
Both Bayonetta 1 and 2 received "universal acclaim" on Metacritic,[12] and were tagged as "Must-play" games. The second installment in the series scored slightly higher than the first, with Bayonetta 1 scoring 86/100 and 84/100 on Wii U[13] and Nintendo Switch[14], while Bayonetta 2 scored 91/100 on Wii U[15] and 92/100 on Nintendo Switch.[16]
Online Presence
The Bayonetta franchise has a dedicated fan-made wiki page[17] with nearly 400 articles and 4,000 pictures. The game also has a subreddit with over 30,000 subscribers. [18]
Bayonetta 3 Voice Actor Controversy
On October 15th, Hellena Taylor, the original voice actor for Bayonetta 1 and 2, made a Twitter[19] video talking about her difficult experience negotiating a living wage for her work on the new Bayonetta game. In the video, Taylor outlines her extensive experience in voice acting, and denounces the multi-hundred-million dollar franchise's attempt to pay her only 4,000 dollars for the entire game. Taylor ultimately calls for a boycott of the new Bayonetta release, gathering over 200,000 likes on her tweet in three days (seen below).
Friends, Worldlings, Bayonutters. Hear ye!#PlatinumGames #Nintendo #Bayonetta #Bayonetta3 #Bayonutters #Boycott #NintendoEurope #NintendoAmerica #NintendoJapan pic.twitter.com/h9lwiX2bBt

— Hellena Taylor (@hellenataylor) October 15, 2022
Related Memes
Bayonetta's legs.
A popular photoshop meme involving other characters having Bayonetta's legs photoshoped on to them. This grew in popularity with the reveal of Kirby's new Bayonetta form in Super Smash Bros. 4. A Tumblr[6] devoted to Bayonetta's legs photoshopped launched soon after.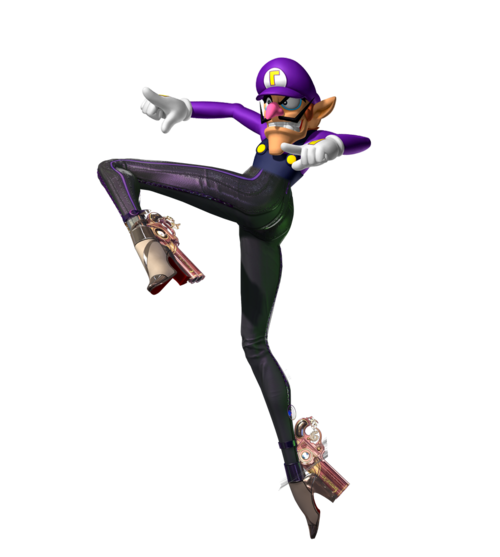 Smash Characters Dancing Like Bayonetta
On August 18th, 2016, Youtube user Master0fHyrule uploaded a video in which every character in Super Smash Brothers Wii U was modified so that their legs were the length of Bayonetta's and they did one of her taunts. The video, shown below, has over 312,000 videos as of August 29th, 2016.
The video also inspired gifs of characters doing Bayonetta's taunt. These edits are mostly popular on Tumblr. For example, one gifset of Link and Toon Link doing Bayonetta's taunt has received over 20,000 notes.[7]



Smash Ballot Results Winner
Bayonetta was announced in the December 2015 Nintendo Direct as the Super Smash Bros. 4 ballot winner, being the number 1 top voted character in Europe and top 5 in America.
On April 1st, 2017, Sega created an online countdown that would reveal something related to Bayonetta.[8] On April 11th, it was revealed to be a PC port of the original Bayonetta game.
Search Interest
External References