This submission is currently being researched & evaluated!
You can help confirm this entry by contributing facts, media, and other evidence of notability and mutation.
About
Cyberpunk is a sub-genre of science fiction and aesthetic movement centered around advancements in the fields of robots, cybernetics and information technology. Cyberpunk is often associated with various transhumanist themes, including the use of electronic hardware to augment human abilities.
History
Literature
In 1980, Minnesota-based writer Bruce Bethke coined the term "cyberpunk" in his titular short story, which was subsequently published in the November 1983 issue of Amazing Science Fiction Stories.[1] The word was subsequently used to define a sub-genre of science fiction popularized by many writers, including William Gibson, Bruce Sterling, Pat Cadigan and Philip K. Dick. Many have considered Gibson's 1984 novel Neuromancer as an iconic cyberpunk work of fiction.
Film
In 1982, the film Blade Runner was released as an adaptation of Philip K. Dick's 1968 novel Do Androids Dream of Electric Sheep?, which is set in a dystopian future where androids who have fled their human captors are destroyed by bounty hunters known as "Blade Runners." Other films that have been associated with cyberpunk include The Matrix, 12 Monkeys, The Lawnmower Man, Hackers and Strange Days
Anime and Manga
Cyberpunk themes can be found in a wide variety of anime and manga, including Akira, Ghost in the Shell, Neon Genesis Evangelion and Psycho Pass.
Video Games
Many video game series include themes associated with cyberpunk, including Shadowrun, System Shock, Metal Gear and Syndicate. The game Cyberpunk 2077 is in development by the Polish developer CD Projekt RED.
Deus Ex
Deus Ex is a cyberpunk-themed action role playing video game franchise set in the 21st century, where secret societies are fighting for power and control over world, and various types of body augmentation are being practiced.
Fallout
Fallout is a role-playing video game series originally created by Interplay Entertainment and Black Isle Studios in 1997 and currently developed by Bethesda Softworks. The games take place in a retro-futuristic 22nd-23rd century United States where humanity is trying to survive in a world devastated by the effects of full nuclear war.
Online Presence
On April 29th, 2005, Urban Dictionary[3] user Jessica Williams submitted an entry for "cyberpunk," defining it as a science fiction sub genre marked by a "stronge sense of helplessness, misery, dystopic ideals and loss of morality and/or humanity." On May 27th, 2008, the /r/cyberpunk[4] subreddit was launched for discussions about the subculture. On May 1st, 2013, a page for cyberpunk was created on TV Tropes.[2]
Fanart
Cyberpunk-themed visual art often features dark, futuristic cities inhabited by people wearing cybernetic devices. On DeviantArt, there are over 69,000 search results for the keyword "cyberpunk" as of October 2016 (shown below).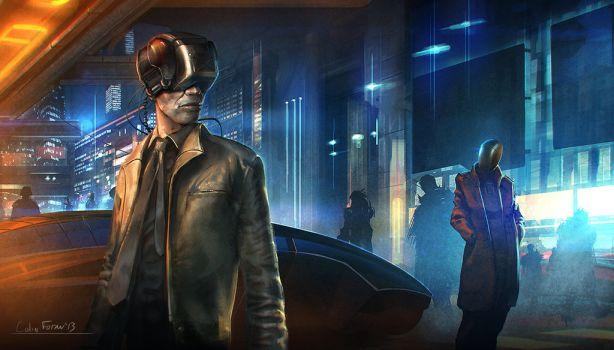 Related Memes
Transhumanism
Transhumanism is a futurist philosophy and intellectual movement with the purpose of transforming the humanity by developing technologies that greatly enhance the physical and psychological capabilities of humans. Strongly influenced by works of science fiction, the transhumanist vision of a technologically transformed humanity has gained a large and diverse following online.
Outrun
Outrun is a 1980s-themed retrofuturistic visual art and music style associated with the electronic genres electro, synthwave, futuresynth, new retrowave and vaporwave. The style is named after the iconic 1986 arcade racing game Out Run.
Steampunk
Steampunk is a retro-futuristic science fiction sub-genre and aesthetic movement that depicts an alternate universe of the Victorian era or the American Wild West where steam power is the dominant source of energy. Steampunk is often associated with being optimistic and playful, albeit unrealistic. Steampunk often incorporates the Victorian period clothing with various engineering inventions and enhancements made of wood and brass, and has a preference for industrialism.
Search Interest
External References