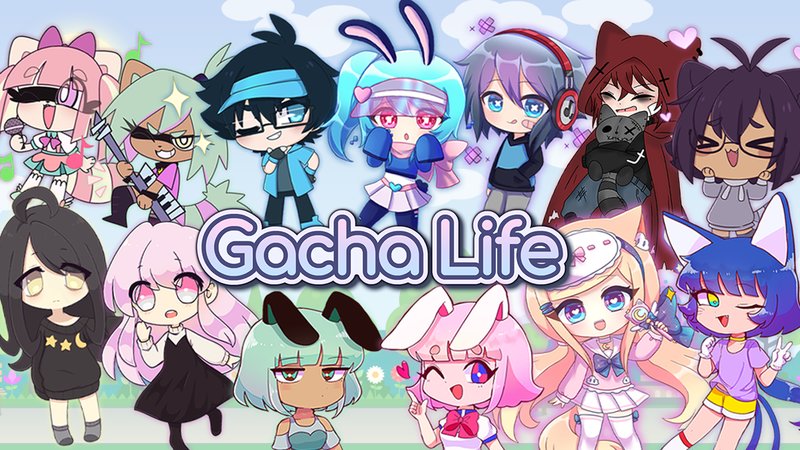 This submission is currently being researched & evaluated!
You can help confirm this entry by contributing facts, media, and other evidence of notability and mutation.
[Work In progress]
About
Gacha games made by Lunime are video games that adapt and virtualize the "gacha" (capsule-toy vending machine) mechanic. In the monetization of video games, it is similar to loot boxes, in inducing players to spend money, although there are opportunities where spending real money is unnecessary.
Most of these games are Roleplaying and Dress up mobile games. In Gacha games, players spend virtual currency, which can be from a machine; however real money is usually eventually spent to obtain the virtual currency and opportunities to use it.
Gacha Life
Gacha Life is an app to let users create anime characters and interact with them in various settings.
[Note: This is currently WIP including it's source, Gacha Life 2 is considered a sequel with new features and returns the combat mechanics, the next line is from the game's description(?)
UPDATE: Gacha Life 2 will now be combined with the Old Gacha club to become a new Gacha Club, a new section will be added when the game is released.]
Start by dressing up your own characters for free! You can personalize your own character using different hairstyles, outfits, weapons and more! Save up to 20 characters of your own design! [1]

Gacha League / Gachaverse
Gachaverse is an anime-styled dress-up and collecting game still in development.
Future updates should include a story mode and battle system. In the early release, only the dress-up system and character Gacha, upgrade, and awakening systems are available. Currently under developed and scheduled to be retitled "Gacha League" from "Gachaverse". [2]

Gacha Studio
Gacha Studio is a dress up and scene creation app with a pet collection element. Players can create characters by customizing hair, face, clothing, handheld items, and poses, then place up to six characters in preset locations in a scene together with the background of your choice.
Players can also gacha pets for use with their characters or use in The Arena. Arena combat comes in three styles:
Automatic: The player's character automatically fights the opponent.
Element: Loosely based on rock-paper-scissors, combat involves putting elemental symbols (water, wind, and fire) ina series, then gaining advantage or disadvantage depending on what the opponent selected.
Skill: Similar to Automatic except for the addition of the Dodge button. Properly time your dodge to avoid damage.
Player's power is based on the total number of pet levels you have across all your pets. [3]

Gacha World
Gacha World is an anime-styled adventure and collecting game. The player can collect additional characters via gacha and use them in various battle modes.
You start with story mode, where your character is sucked into the Gacha realm and chosen as the Gacha Summoner. You meet Fairy Ellie who is your constant companion as you travel the other realms to stop the Corruption that's invading the universes. [4]

Gacha Resort [NSFW]
Gacha Resort is an anime-styled adventure and collecting game. Gacha Resort takes the Gacha Summoner to Luni's newly created resort along with Ellie and much of the previous game's cast to enjoy a nice vacation after freeing the Luniverse from corruption.
This time the player does not have an avatar and acts mostly as observer. In this game, players can now collect old and brand-new characters whose skin tone and swimsuits are customizable, play beach-related minigames, fight battles, and give gifts to the others to increase your bond with them. While gems return as a currency, gold has been replaced by shells. The game also contains an obvious amount of fan service. [5]

Online Presence
[This section is currently WIP, You can help by requesting Editorship and find any lunime sources that made it's series popular, do not add any off brand and NSFW content otherwise it will be removed by Imortal, no second Chances]
Related Memes
TikTok crossover videos
After TikTok was made public, and several memes came by, several members of the group have created similar videos using Kinemaster Video maker, or using TikTok app itself. these include All You Have to Do Is Stay (left) and You Sure You Wanna Do This, Little Girl? (right)
r/gachalifecringe (Needs more Research)
This subreddit appeared to be created shortly after the creation of Gacha Life, in which this post mainly contains Cringe Content across IRL and social media, sometimes it contains NSFW as it also contains one marcophillia called Vore, Applied to some videos.
It features Both Discord and a YouTube Channel available to the public.
Search Interest
External References
[1] Gacha Life-Wikia
[2] Gachaverse- Wikia
[3] Gacha Studio-Wikia
[4] Gacha World-Wikia
[5] Gacha Resort-Wikia