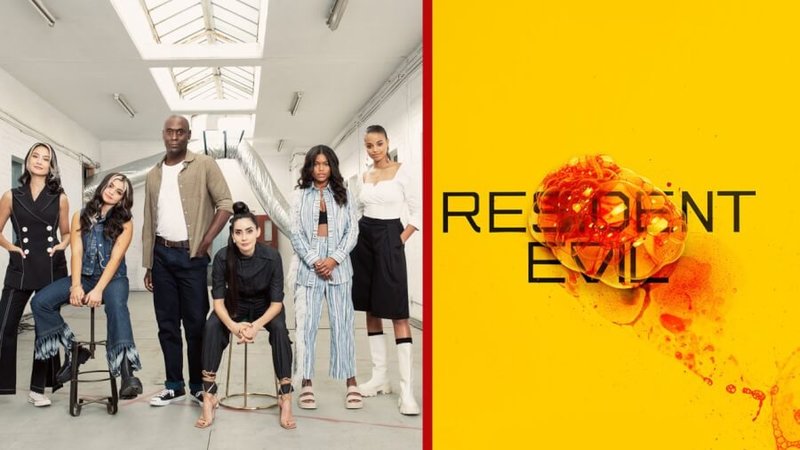 Resident Evil (Live-Action Netflix TV Series)
This submission is currently being researched & evaluated!
You can help confirm this entry by contributing facts, media, and other evidence of notability and mutation.
About
Resident Evil (Live-Action TV Series) is a television show loosely connected to the Resident Evil series of video games produced by Martin Moszkowicz and distributed on Netflix. The series premiered in July 2022 and was met with criticism from television critics and fans of the game series alike for the series' incongruous tone and tenuous relationship with the games. The Netflix adaptation was widely memed and mocked online for various elements in the show, particularly the internet-culture references such as the infamous "Zootopia line" that many felt was cringe.
History
Netflix announced the production of a live-action Resident Evil television series in January 2019.[1] On June 6th, 2022, Netflix released the first trailer for the series (shown below), with the eight-episode series debuting on July 14th, 2022.
The series features an ensemble cast with top billing going to Lance Reddick as Albert Wesker, Ella Balinska and Adeline Rudolph as Wesker's grown-up daughters (Jade Wesker and Billie Wesker), Tamara Smart and Siena Agudong as the teenage versions of the daughters and Paola Núñez as James Marcus's daughter Evelyn.
Reception
The series was met with middling reviews by critics upon release. As of July 18th, 2022, the series has a score of 53/100 on Metacritic.[2] Writing for the AV Club,[3] Tom Philip complained of the series' lack of horror, writing, "The complete absence of 'horror' here is an egregious sin. We're introduced to monsters in the dark and gory lab experiments gone wrong, but never once do they land as frightening. Rather, they come off like superficial obligations to the genre." In a negative review, Collider's[4] Ross Bonaime wrote the show's tonal inconsistency and tenuous relationship to the series' established canon made it feel like it lacked a target audience, writing:
Who is Resident Evil even for? For newcomers to the Resident Evil franchise, there are better entry points to this world, and far more interesting zombie/end-of-the-world shows to spend your time with. For existing fans of Resident Evil, this often feels like pandering, as the show will throw in the name of a secondary character here and there, mention a location that seems familiar, or throw in a typewriter for no reason as a way to get the viewer to wake up for a few seconds each episode.
Online Presence
Much of the online reaction to the series echoed the sentiments of the series' harshest critics. YouTuber Cr1TiKaL voiced a similar opinion as Collider, complaining the series would be a disappointment for both newcomers and established fans of the franchise, in a video that gained over 2.5 million views in three days (shown below, left). Jeremy Jahns also gave a negative review of the series' first two episodes, gaining over 361,000 views in a similar timeframe (shown below, right).
Zootopia Line
Several clips from the series earned mockery on social media in mid-July 2022. For example, a quip in the series about "Zootopia porn" spread widely on Twitter (shown below, top). A second clip showing a character dancing to Dua Lipa seemingly out of nowhere was taken as an example of the show's bizarre tone (shown below, bottom).
ZOOTOPIA PORN IS CANON IN THE RESIDENT EVIL UNIVERSE

U HEARD IT HERE FIRST FOLKS pic.twitter.com/Gl5c6cjwYI

— Ramges Jeyes 🆓 best pld in batasan hills (@Reyesynthesis) July 14, 2022
Ain't no fucking WAY this is Resident Evil, bro… AIN'T NO PH-HUCKING WAY.#ResidentEvilNetflix pic.twitter.com/rMNltZB2FF

— Nazo (@NazoXIII) July 14, 2022
Search Interest
External References
Recent Videos
There are no videos currently available.