This submission is currently being researched & evaluated!
You can help confirm this entry by contributing facts, media, and other evidence of notability and mutation.
"Every week it becomes more and more mind-boggling, that nothing on this server has ever been scripted." -Jschlatt
About
SMP Live is a private Survival Multi-Player Minecraft server based around streaming hosted by YouTuber CallMeCarson.
Origin
On March 1st 2019, Carson opened up the server to himself and a group of streamer friends. 3 days later, on March 4th 2019, a highlight video was uploaded to his alternate YouTube channel, amassing over 1.5 million views (shown below, left). A full recording of the livestream was uploaded by a fan on March 10th, gaining over 300,000 views (shown below, right).
Spread
The server was quick to gain popularity on both Twitch and YouTube, and spawned numerous memes and pieces of fan art. The server has also attracted a variety of streamers, from Minecraft YouTubers such as AntVenom, CaptainSparklez, and SkyDoesMinecraft, as well as various internet celebrities, such as VoiceOverPete and JunkyJanker. As of July 2019, the server hosts over 70 streamers.[1]
Related Memes
Stal/The Stal Debate
On the first day of the server being up, a humorous argument broke out between Jschlatt and AntVenom about the quality of the in-game music disc "Stal." The fiasco lasted for multiple hours, and has been memed and referenced in and out of the server since.



Gumball will Eliminate the Middle Class
During a livestream, YouTuber and voice actor JunkyJanker (best known for voicing Gumball in the Cartoon Network series The Amazing World of Gumball) read aloud a sign placed in game reading "I will eliminate the middle class" in the character's voice. A YouTube upload of the clip attained over 60,000 views as of July 2019 (shown below, left.) An animated version of the clip received over 600,000 views in the same timeframe (shown below, right).



SchlattCoin
SchlattCoin in an in-game joke cryptocurrency created by SMP Live member Jschlatt. Originally used to be an exit scam, the coin has become Schlatt's primary form of 'business' on the server, often looking to make deals with other server members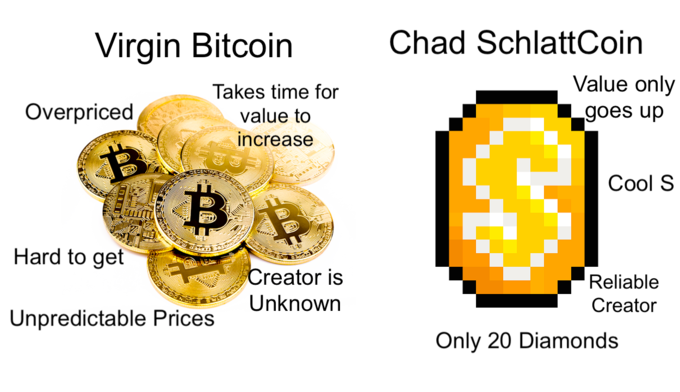 Search Interest
External References