Tom and Jerry: Willy Wonka and The Chocolate Factory

About
Tom and Jerry: Willy Wonka and the Chocolate Factory is a 2017 direct-to-video animated crossover film of cartoon series Tom and Jerry and 1971 musical fantasy film Willy Wonka and the Chocolate Factory based on Roald Dahl's novel.[1][2] The film is notable for its intense negative reception from the animation community for the cheap animation.
Origin
On April 17th, 2017, a trailer for the film was uploaded to YouTube video by Movieclips Extras. As of July 17th, 2017, It has gained over 269,000 views and earned about 3,000 dislikes and only 878 likes. The trailer reveals that Tom and Jerry go through the factory with Tuffy, an "Oompa Loompa in Training."
Plot
Tom and Jerry were greet to an poor boy name Charlie Bucket when they heard about the five golden tickets in the Wonka chocolate bars as the reward for the endless-supplies of chocolate, later from the ticket searching as Charlie along with Grandpa Joe is enter the Willy Wonka's Chocolate Factory as the other four children Augustus Gloop, Veruca Salt, Violet Beauregarde and Mike Teevee, when Tom and Jerry meet with Tuffy that they have notice of Arthur Slugworth is enter the factory to steal the secret formula known as Everlasting Gobstopper.
Reception
The trailer for the film was instantly mocked by the press. Critics mocked how the film seemed to take complete sentences of dialogue and songs from the original Gene Wilder film rather than create original dialogue. On April 20th, Collider[3] posted about how the film "confuses" the internet. The Guardian[4] criticized the cheap cash-grab by imagining other films such as Up and Passion of the Christ with Tom and Jerry inserted into them, starting each summary with "A cheap, near shot-for-shot remake…" Crave Online[5] called it "arguably the laziest movie ever created." The Animation Podcast recorded a segment on the trailer. Its upload to YouTube has gained over 18,000 views.
Critics remained harsh upon the film's June 27th, 2017 digital and July 11th, 2017 release dates. Gizmodo subsite io9[6] gave a scathing, complete review of the film, calling it "an experiment in survival more than a film." The film currently holds a score of 25% on Rotten Tomatoes and earned 4.8 rating from 115 reviews in IMDb.[7][2] Several posts on Tumblr mocked the film as well.[8]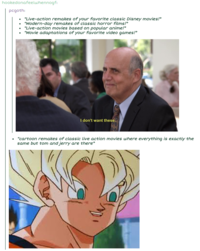 Search Interest
External References