Warning: This page contains material that may be considered not safe for work.
About
The Casting Couch refers to a seating furniture often used as a set prop in adult films wherein a woman is interviewed for an acting or modeling position in an office room. The black leather couch is often referenced on image boards and discussion forums, in a similar vein to the Japanese adult film set "That Pool".
Origin
The casting couch has been used in professional adult films since as early as December 2007, following the launch of the adult entertainment website Backroom Casting Couch[1].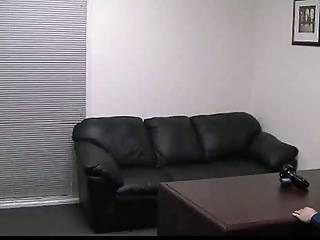 Spread
On October 2nd, 2011, a post titled "So, how many of you recognize this couch?" was submitted to the /r/pics[9] subreddit, featuring a photograph of the adult film set (shown below). Prior to being archived, the post gained over 15,800 up votes and 1,200 comments. On October 2nd, 2011, the same photograph was reposted to the Internet humor site FunnyJunk,[13] receiving more than 58,000 views and 2,700 up votes in the first two years. SCP Foundation wiki user Salman Corbette created new joke SCP entry on 21 November 2011[6]. Entry describes sexual movements differently.
When the following phrases are spoken, a malevolent being will appear near the speaker and begin attacking them. The nature of this entity may range from an unidentified male wearing a mask and carrying a bladed weapon to an incorporeal entity with the ability to affect physical objects seemingly at random
Joke SCP gained 84 karma and 23 comments on it's page.
On February 7th, 2012, Body Building Forums member BradInPhx posted an image macro featuring the casting couch photograph with the caption "Statistically: 80% of males will recognize this place" (shown below, left). On April 10th, Redditor davisonmp28 submitted an image macro to the /r/AdviceAnimals subreddit, in which Bad Luck Brian's first job interview is on the casting couch (shown below, right).


On December 4th, Redditor yourlocalgerman submitted a post requesting that the star of the casting couch series participate in an "ask me anything" (AMA) on the /r/IAmA[12] subreddit. Before the post was archived, it accumulated upwards of 9,000 up votes and 1,200 comments. On July 5th, 2013, Redditor Go_Ice_Go submitted a Polandball webcomic referencing the casting couch (shown below) to the /r/polandball[11] subreddit, which gathered more than 2,400 up votes and 170 comments in the next two months.

On August 7th, Redditor phrresehelp posted a photograph of the casting couch set to the /r/funny[10] subreddit, joking that "70% of males" seem to recognize the set when walking the picture in his office. In the first two months, the post garnered upwards of 460 up votes and 60 comments.
Search Interest
References