The Manny Will Not Be Televised
About
The Manny Will Not Be Televised is a catchphrase associated with the use of Manny from Diary of A Wimpy Kid as a symbol used both online and in physical spaces in support of the George Floyd protests. The name is a play on the Gil Scott-Heron song and poem "The Revolution Will Not Be Televised."
Origin
On June 8th, 2020, TikTok user themannyspotted posted a video of someone drawing Manny at an Oregon protest while a person nearby says "The Manny will not be televised," gaining over 900,000 likes.
The phrase "The Manny Will Not Be Televised" is a play on Gil Scott-Heron's famous poem and song "The Revolution Will Not Be Televised" (shown below).
Spread
In the ensuing weeks, pictures several graffiti pieces depicting Manny with slogans in support of the protests such as ACAB and Fuck 12 appeared online. On June 22nd, 2020, Twitter user @MercilessNaps[1] posted several examples of Manny graffiti, gaining over 63,000 retweets and 283,000 likes (examples shown below).




After the tweet, more people began noticing the rise of Manny as a symbol of protest. On June 23rd, Twitter user @KristenMerrilees[2] posted a Medium article about the rise of Manny. Some began using Manny as a call to action. Twitter user @canyonloueh[3] wrote, "oh look the manny that will not be televised is on your tl. guess you've got to sign a petition now. i suppose it's good luck i've linked some below," gaining over 200 retweets and 570 likes (shown below, left). User @wvtangdan[4] wrote, "i'm giving fox news 3 days to announce manny from diary of a wimpy kid as an antifa terrorist symbol," gaining over 21,000 retweets and 165,000 likes (shown below, right).


The use of the character as a protest symbol was also popular on TikTok. Examples include videos by Jordyn and allycease (shown below). The character was covered by StayHipp.[5]
Various Examples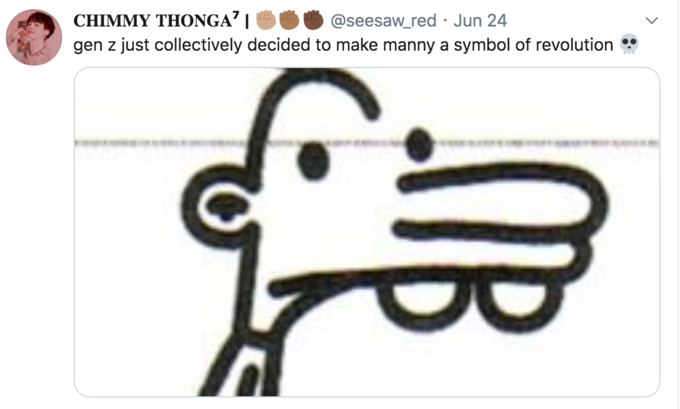 Search Interest
External References
Recent Videos
There are no videos currently available.