Travis Scott's Batman Costume
About
Travis Scott's Batman Costume refers to a viral photograph of rapper Travis Scott posing in his Halloween costume of superhero Batman. The photograph was ridiculed by Travis Scott's Instagram followers, with Scott proceeding to react by deleting his Instagram account. This in turn prompted further spread of the photograph online, with it being actively used in memes in the following days.
Origin
On October 31st, 2020, rapper Travis Scott posted photographs of himself wearing a brown Batman costume and a video of him walking up to the costume on Instagram[1][2] (original post not available, photograph shown below).

Spread
On the same day, the post went viral on Instagram. In the reply section of the post and on other social media, multiple users ridiculed Scott, mocking him for choosing to wear an unusual brown Batman costume instead of traditional black or black-and-grey variation. Users drew comparisons[3][4] to other characters, including The Flea from ¡Mucha Lucha! and Hopper from A Bug's Life, and mocked[5] the costume through puns (examples shown below).


On November 1st, following the influx of mocking comments, Travis Scott deleted his Instagram page, with multiple social media accounts reporting[6][7][8] the news.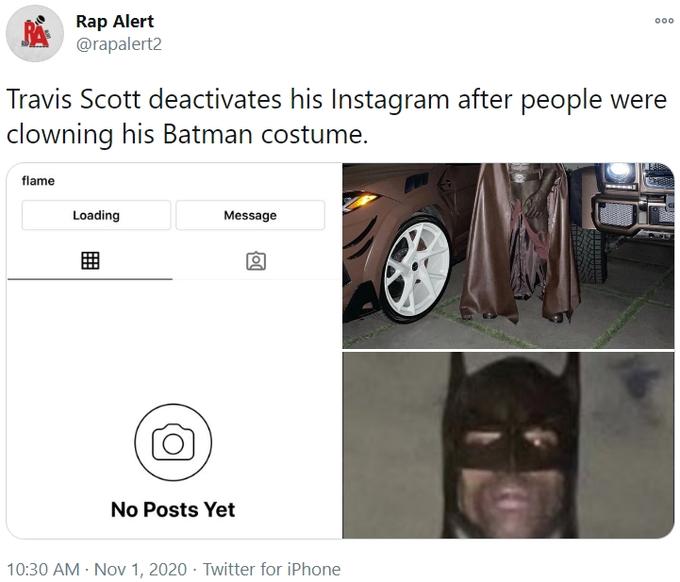 The deletion of the account triggered a Streisand Effect, with users on Instagram, Reddit, Facebook and other platforms proceeding to make multiple memes based on the photograph in the following days, particularly those based on the Mom Said It's My Turn On the Xbox meme archetype. For example, a meme posted by Facebook[9] page Rappers In Peculiar Places received over 4,800 reaction and 3,800 shares in one day (shown below, left). a meme posted by Redditor[10] MonkeyGameAL received over 3,500 upvotes in /r/travisscott subreddit in one day (shown below, right).


Various Examples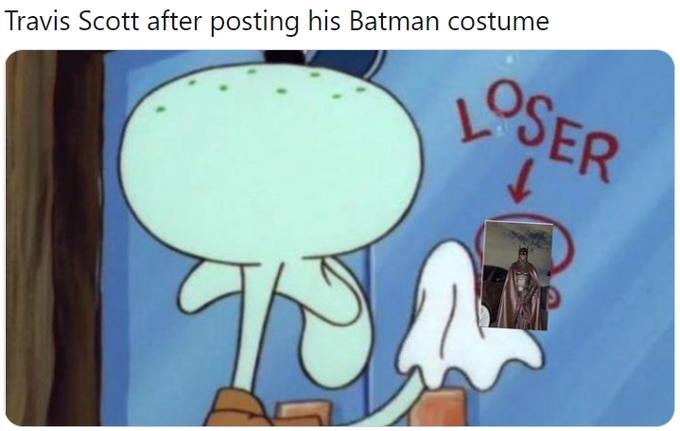 Template

Search Interest
External References