This submission is currently being researched & evaluated!
You can help confirm this entry by contributing facts, media, and other evidence of notability and mutation.
About
We Rate Dogs is a single topic blog on Twitter that takes pictures of peoples' dogs and rates them on a 1-10 scale, often rating the dogs above 10. Since its inception in 2015, the account has gained over 2.2 million followers.
Origin
On November 15th, 2015, comedian Matt Nelson launched @dog_rates, a Twitter account devoted to posting pictures of dogs, giving them a fictional backstory, and giving them a rating on a scale of 1-10. His first post[1] gained 534 retweets and over 2,500 likes (shown below).

Spread
The account was a fast success. Three weeks after the account was launched, it was covered by New York Magazine.[2] Huffington Post[3] wrote an article shortly after. On July 30th, 2016, Buzzfeed[4] posted a compilation of some of their favorite @dog_rates tweets. Nelson has since been covered by Esquire,[9] Complex,[10] and more.
They're Good Dogs Brent
On September 12th, 2016, Twitter user @brant[5] took issue with the account's rating system, tweeting @dog_rates to tell them it didn't make any sense. @dog_rates replied with "they're good dogs Brent," purposefully misspelling @brant's name (shown below).

The exchange was an instant hit. A screenshot of the exchange was tweeted by @Braydenominator that day and gained over 57,000 retweets as of February 2017. Mashable[2] and Elite Daily both posted articles about the exchange the following day. Meanwhile, Twitter users began replying in the thread with various different memes using the quote. One of the more popular examples, posted by @ManOfPiePants, applied it to the Carl meme (shown below).

The exchange was also a massive success for the @dog_rates account. According to an article by The Washington Post, which called "They're Good Dogs, Brent" one of the best memes of 2016, the account gained 50,000 followers as a result of the exchange. @dog_rates has also created a t-shirt and coffee mug it sells with the phrase on them. @Brant has since been the target of good-natured ribbing on Twitter since the exchange, but has taken the meme in stride, putting "They're good dogs Brent" on his wedding cake.

Covfefe Controversy
On May 31st, after the Covfefe incident in which the President tweeted a typo, @dog_rates made a joke in which they rated a dog "named Dewey (pronounced 'covfefe')."[6] Afterwards, Nelson created a hat that read "Covfefe AF", which he would sell on his website. He announced he would donate half the profits to Planned Parenthood.[7]

This upset those who liked the account but not Planned Parenthood. The backlash was such that eventually Nelson apologized, which led to members of leftist twitter to get angry at the perceived caving to the right. The entire ordeal was covered by Daily Dot.[8]
Whitewashing Name Controversy
On June 25th, 2018, Twitter user @marybwagner[11] revealed that pictures of a dog named Kanan were posted on the @dog_rates account with the name changed to George. Additionally, she tweeted various interactions with the account along with the accusation that the name was changed to sound more "white" to improve its success on Twitter.Her tweet gained over 10,000 retweets and 36,000 likes (shown below).

When confronted about the change, Nelson admitted that "the name plays a massive role in how well the post does." On his personal account, Nelson also said one of his most popular posts changed the name of a dog named "Pablo" to "Pipsy." He defended himself by saying he "always checks with the owner" and there's "no rhyme or reason" to the changes (shown below, right).


After backlash from many Twitter users, Nelson exasperatedly declared he would not change any more dog names and did not see how his name changing could be interpreted as white washing. The ordeal was covered by Daily Dot[12] and Slate.[13]


Various Examples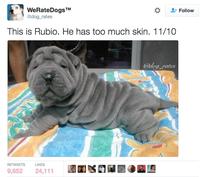 Search Interest
External References
Recent Videos
There are no videos currently available.