Straight White Boys Texting
About
Straight White Boys Texting is a single topic blog featuring screen shots of unsolicited texts and instant messages sent from men that are aggressively sexual even in the face of an obviously uninterested recipient. In June 2014, the popularity of the blog rose dramatically after a series of feminist hashtags on the topic of harassment surfaced on Twitter.
Origin
Straight White Boys Texting[1] Tumblr blog was created on January 11th, 2014. In the about section, the creator explains the story behind the title of the blog, saying:
"The name of this blog is based off of the phenomenon of the "straight white boy text" aka asking "hey what's your bra size ;)" in the middle of a conversation, or things like "what would you do if you were here haha lol ;)". Basically things that even if you want to sext with the person, they basically completely ruin the mood either because they're not sexy or because (in the case of the second) it pretty much puts all the sexting work on you. The phrase "you sext like a straight white boy" comes from this, so yes it's based on a generalization but I've heard people say that sentence to guys of all races and orientations."
Since its launch in January, the blog has seen a steady increase in post frequency; the number of total posts rose from 20 posts in April to 50 in May, then increased seven folds to 360 submissions in June. The blog accepts user submissions.
Spread
On May 30th, 2014, The Daily Dot[3] published an article titled "The worst of straight white boys texting in one beautiful Tumblr," which featured the blog and attributed the added attention to the blog to be a product of recent online feminist trends like the #YesAllWomen hashtag. The same day it was featured in PaperMag's[4] "The Best, Worst and Weirdest of the Week," round-up as the Most Cringe-Worthy Tumblr of the Week. On June 2nd, the Tumblr blog created a corresponding Twitter account[2], in less than a month the account gained over 1,000 followers. On June 24th, 2014, Jezebel[7] published a post titled "For Your Cringing Pleasure: Texts From Straight White Boys." The following day several sites covered the blog including Buzzfeed[5] and Huffington Post[6].
Notable Examples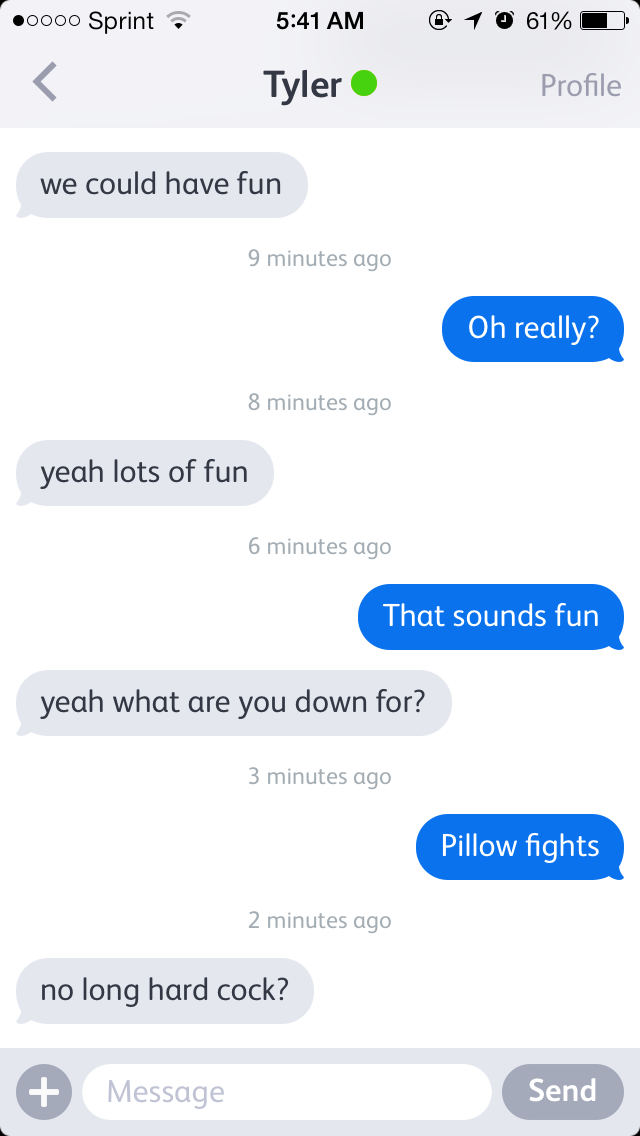 Search Interest
External References