About
Zabivaka (translated as "The One Who Scores" in Russian) is the official mascot of the 2018 FIFA World Cup. Zabivaka quickly became noticeable due to many explicit depictions that were drawn by the Furry community.
Origin
Zabivaka was created by Yekaterina Bocharova at Tomsk State University. Her creation was later to be bought by FIFA for a questionably low price. Yekaterina says she was inspired by Disney to create Zabivaka. It was decided on an online poll between three mascots of who should be mascot for the World Cup.[4] Zabivaka design won by 53%.[1][2] On October 21st, 2016, Russia announced and introduced Zabivaka.
Spread
Zabivaka started to spread after the official announcement on FIFA's website.[3] Other news media outlets also picked up the unveiling including The Guardian[1] and The Dailymail[2]. Two days later, on October 23rd, the Russian Embassy of the UK posted on Twitter about the new Mascot.[6] They wrote, "Zabivaka the Wolf has been chosen by popular vote the mascot of @FIFAWorldCup – 2018 in Russia!" The post (shown below) received more than 160 retweets and 300 likes in 14 months.

During this two-day period between posts, a numerous amount of fan-art including suggestive and non-suggestive images were posted on numerous sites, including Furaffinity, DeviantArt and Twitter (examples below). With this continuing on without interruption for a few months, Zabivaka re-emerged with Zennie's video poking fun at the numerous amounts of Rule34 and awkward position FIFA and Russia were and are still in.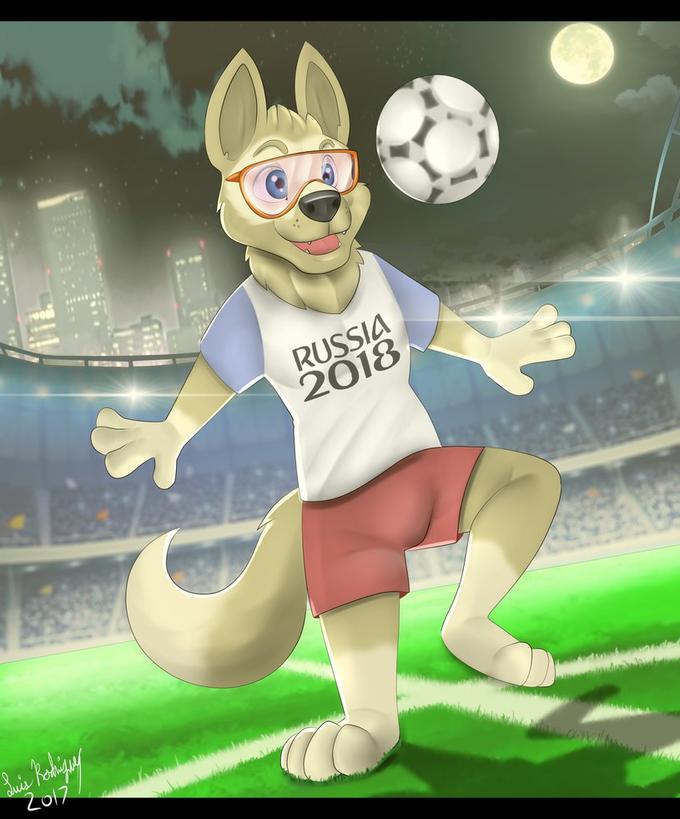 Furry Edits
The character became less notable over the next few months; however, it began to gain traction once again after a YouTuber [7] by the name of Zennie posted an edit of a Zabivaka Promo uploaded by FIFATV. Posted on December 4th, 2016, this video (shown below) spoofed examples of explicit material some Furry artists have created depicting the Mascot, and FIFA's neglect to respond to this issue.[5] Within one year, the video has been viewed more than one million times.
Zabivaka-Winter/Sports Goggles Debate
Many argued that Zabivaka did not fit into the World-Cup due to the misconception of him wearing Ski-Goggles in a Summer event. The irony was later denounced when Yekaterina stated that they were "sports goggles." and he wears them "to protect his eyes as he runs extremely fast." [4]
"These are not winter goggles but just sports goggles, like the ones you use for cycling. It's just that Zabivaka is so fast on the field that he needs eye protection," [4]
Zabivaka Post FIFA 2018
Zabivaka has been a subject to precedent certain standards that were previously not as common or scrutinized more,with the most notable impact being porn or ludicrous art being used to protest or mock certain ideals. The precedent of Zabivaka can be seen in modern culture, such as with one user tweeting a suggestive mockery of Anita Sarkeesian's tweet about Mandalorian Breast Armor. Other notable examples include Fivey, though not necessarily mockery or protest, was used with political roots to make porn of an ideal or character associated with a government body.
Zabivaka and Cub Artist Controversy
During the 2018 spike of Zabivaka art, some individuals, mostly being peer fandom members, published Zabivaka porn of the character being blatant or hinted doing sexual acts at a age that cannot consent. Though the age of Zabivaka has never been stated by FIFA or any official body, contrary to the preceding mascot of Belarus sharing a similar art style and character: Lesik. It is also not uncommon for some individuals to draw ludicrous art with ambiguous age or art styles that make a character look younger than the artist's intentions (E.G. Darkgoose [7]), a lot of fandom members felt that Zabivaka was being "lewded too much," leading indirectly to a slow decline in ludicrous art.
Various Examples






Search Interest
External References
Updated with new information by Bowman Fox/Niko Bowman/"Fentan", on 12/21/2020, to reflect post mortem