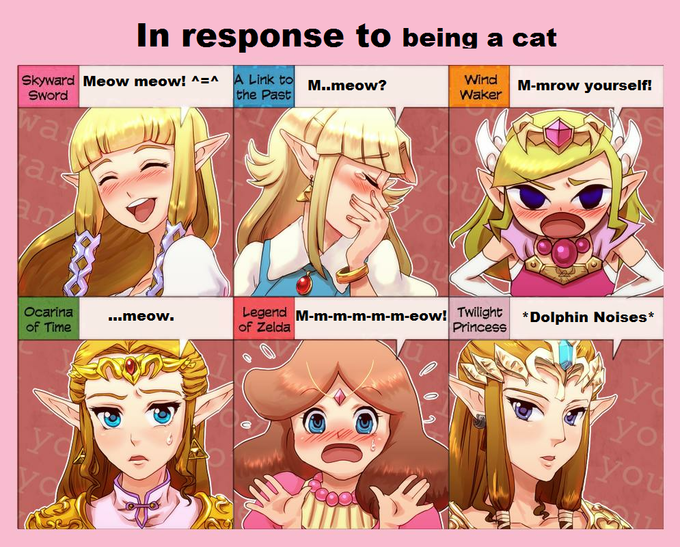 About
Zelda's Response is a six-pane reaction-based exploitable series that uses six different incarnations of Princess Zelda from the Nintendo video game series The Legend of Zelda. The reaction faces chosen are based on the personality given to each version in their respective game, reflected in their facial expressions. The captions also reflect those personality traits, showing how the character has evolved and changed throughout the series.
Origin
The original Zelda response image was uploaded to the Japanese art sharing site pixiv[1] on January 31st, 2012. The image (shown below, left) features six incarnations of Princess Zelda from various Legend of Zelda games giving their reactions to being told "I love you" (shown below, right in English). The image was submitted as one out of more than 150 responses[2] to a blank template with text, which was created by pixiv user leopard[3] in January 2010.


Precursor: Expression Practice
This type of paned reaction image is an example of the illustration technique known as "Expression Practice." This is popular on pixiv and deviantART, as a method to help amateur artists learn how to keep a consistent character while trying to fill out every type of named facial expression. As of November 2012, there are more than 8,000 search results for "Expression Meme"[4] on deviantArt.


Spread
The original Japanese instance was re-uploaded to the art sharing site Safebooru[5] on February 5th, 2012. The earliest appearance of the original image on 4chan was in a Legend of Zelda thread on /v/ (Video Games)[15] board on March 20th, 2012, which was then replied with alternate translation of the original.[16] (shown below)

On March 28th, 2012, Tumblr user Joouheika[6] uploaded an English translation to his blog (shown above), which gained 895 notes. The alternate translation was then submitted to the /r/gaming[13] subreddit on April 25th, accumulating more than 1500 upvotes and 1100 comments. A month later, the original image then appeared on 4chan's /jp/ (Otaku Culture)[7] board, asking if the Japanese text matched up with her expressions, which was then followed by two more threads on /v/[8][9] where posters began changing Zelda's captions Since June, other versions of the Zelda response have appeared on Memebase[10], Halolz[11], 9gag[14] and Meme Center.[12]
Notable Examples






Search Interest
External References
Recent Videos
There are no videos currently available.