PROTIP: Press 'i' to view the image gallery, 'v' to view the video gallery, or 'r' to view a random entry.
This submission is currently being researched & evaluated!
You can help confirm this entry by contributing facts, media, and other evidence of notability and mutation.
About
Captioned Stock Photos, also known as You Don't Surf, are a series of stock photographs with captions depicting vulgar dialogue between the subjects, bearing many similarities to interior monologue captioning.
Origin
On June 22nd, 2013, Redditor nl13 submitted a stock photo of an old man and a young boy titled "Fun Times with Gramps," with a caption of the man chastising the boy for wearing a T-shirt with the word "Surf" written on it (shown below). Prior to being archived, the post gained over 1,800 votes on the /r/funny[1] subreddit (86% upvoted).

Spread
On October 31st, 2013, the /r/youdontsurf[2] subreddit was launched for captioned stock photo submissions, gathering upwards of 63,000 subscribers in 10 months. On February 5th, 2014, Redditor ScTiVCrMnFeCoNiCuZn submitted a captioned stock photo of a family titled "You're such a fucking professional" to /r/youdontsurf, which received more than 5,900 votes (96% upvoted) in five months (shown below, left). On March 8th, Redditor Lots456 submitted a picture of a young boy using a tin can telephone to tell a little girl to "send the nudes bitch" to the /r/funny[3] subreddit (shown below, right). In four months, the post accumulated over 2,200 votes (81% upvoted) and 50 comments. On July 28th, BuzzFeed highlighted 25 notable examples from the /r/youdontsurf subreddit.


Notable Examples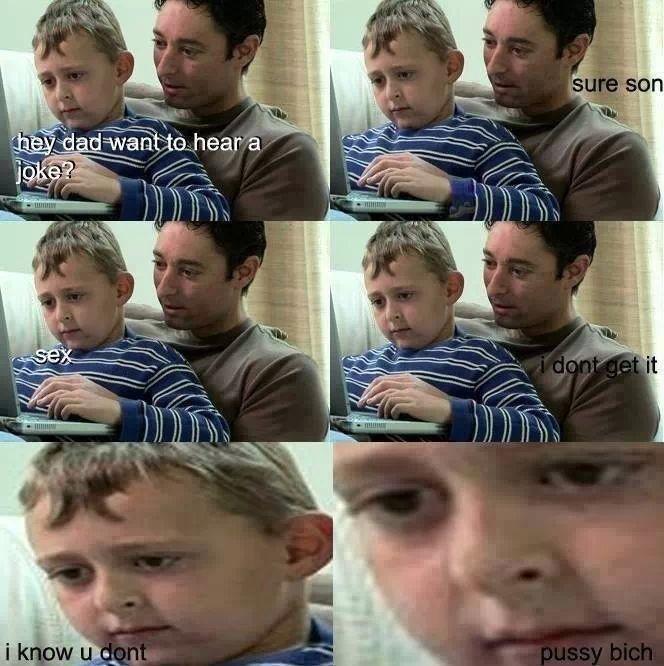 Search Interest
External References
Recent Videos
There are no videos currently available.
Facebook Comments