Animals Talking In All Caps

About
Animals Talking in All Caps[1] is a single topic blog featuring image macros of various animals accompanied by captions personifying the creatures depicted in the photographs.
Origin
The Tumblr blog was created by Justin Valmassoi[2] on July 10th, 2011 with 35 image posts of animals ranging from piranhas to polar bears. The initial batch of posts received thousands of likes and reblogs, the most reblogged instance[3] being a photograph of several deer in a field with one placing his front leg on the hind of another.

Spread
The site was first featured on Buzzfeed[5] months after its launch in September 2011. In November, the link was shared on Metafilter[6] and Feministing.[7] After its appearance in Buzzfeed's list of the best Tumblr blogs of 2011[8] published in early December, the blog was featured in Rhode Island's Daily Herald blog.[9] On December 6th, 2011, Valmassoi did an interview with The Next Web[4], during which he explained that he started the blog as a place to store all of the captioned animal pictures he had created in one sitting for an ex-girlfriend. When asked if anything awesome had happened as a result of the blog's viral reception, he responded: "the sheer number of 'You have totally brightened my day' or 'This is my favorite Tumblr' messages I receive means more to me than I can properly express." The Facebook[10] page for the site has over 2,400 likes as of June 2012.
Notable Examples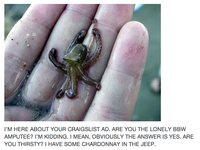 Search Interest
Search for "Animals Talking in All Caps" began to register in September 2011 when the site was initially featured on Buzzfeed.
External References
Recent Videos
There are no videos currently available.