PROTIP: Press 'i' to view the image gallery, 'v' to view the video gallery, or 'r' to view a random entry.

About
"He Will Never Have a Girlfriend" (alt: "She Will Never Have a Boyfriend") is a series of multi-pane rage comics featuring Cereal Guy's reaction to pre-fame and post-fame comparison photographs of well-known celebrities.
Origin
The first instance of the image macro[1] was posted by Reddit user hannahisapalindrome depicting two photos of Joseph Gordon-Levitt, one at young age and another one at older age, on February 8th, 2011. The comics typically use the structure of Cereal Guy's reaction to the pre-fame or childhood photograph of a celebrity, followed by Cereal Guy's "food-spitting" reaction to the glamorous photograph of the same celebrity. Prior to this series, unflattering "before-and-after" comparisons of celebrity photographs have been explored on the Korean web in the early 2000s, largely driven by the growth of anti-fan communities.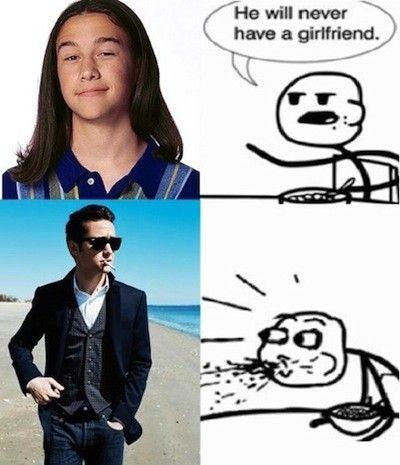 Spread
The single topic blog He Will Never Have a Girlfriend[4] was created on February 25th, 2011. Similar compilations of "He Will Never Have a Girlfriend" pictures have been posted on numerous internet humor sites like Memebase[6], Smosh[3] and Urlesque,[2] as well as on Tumblr[8] and Facebook.[7]
Notable Examples
Blank Template

Search Interest
According to Google Insights, search queries for the phrase "he will never have a girlfriend" yielded a sharp rise beginning in early February 2011. The meme has also led to a rise in the popularity of its parent meme, Cereal Guy:
External References
Recent Videos
There are no videos currently available.
Facebook Comments