PROTIP: Press 'i' to view the image gallery, 'v' to view the video gallery, or 'r' to view a random entry.
About
"Now Kiss!" is the caption associated with a web comic character holding two dolls as if he is forcing them to kiss each other. The image features the same face that would later be used for the Fap Guy often found in rage comics.
Origin
On February 16th, 2010, FunnyJunk user KingGawjuss posted a MS Paint comic titled "Principal Creepy"[6] with the "now kiss" image in the bottom panel. In the post, KingGawjuss claims to have drawn the comic himself.

Precursor
The character references the way children play with dolls and attempt to form romantic relationships between the toys. This type of game was used as a plot device in the cartoon series Adventure Time in an episode titled "Storytelling" in which the character Finn tells a goose and a fox he will do anything, even eat dirt, to see them kiss. After eating dirt, he grabs them both and forces them together saying "Ok, now you guys kiss!"


Spread
On June 6th, 2011, the Let's Go Weird Tumblr blog posted a picture of Emma Watson and Emma Stone with the "now kiss" character pasted underneath. The Tumblr post reached the front page of Reddit[9] the same day and accumulated 4,115 up votes prior to being archived. On October 8th, a photo of Starcraft gamers Rachel Quirico and Anna Prosser with the "now kiss" character pasted underneath was posted to the r/starcraft subreddit and received over 900 up votes within a month.


Additional derivatives can be found on the image gallery site We Heart It[1], Reddit[2] and Tumblr.[7] A Facebook[10] fan page has accumulated 467 likes as of December 5th, 2011.
Notable Examples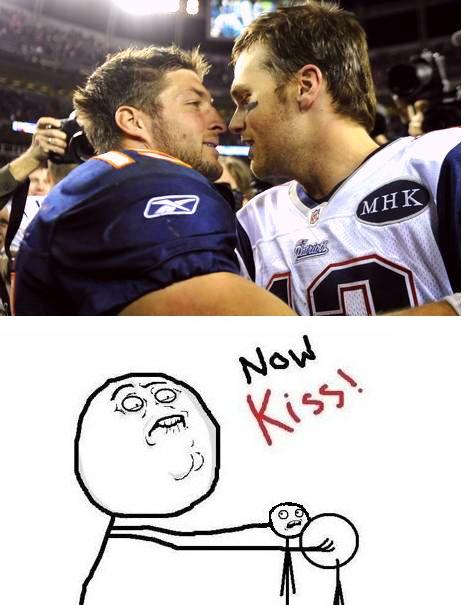 Search Interest
Search queries for "now kiss meme" picked up in July of 2011, one month after the Emma Stone / Emma Watson derivative was posted to Reddit.
External Links
Facebook Comments