About
Adventure Time is an animated series created by animator Pendleton Ward. Originally produced as a short by Frederator Studios for the "Random! Cartoons" project on Nickelodeon, the show was picked up by Cartoon Network after Pendleton presented it to the executives on 2008.[1] Since then, the show has completed 3 seasons and has been successful both critically and commercially among the channel's demographics. Mostly because of it's nature, both the short and the series have received a lot of attention online on different websites such as YouTube, DeviantArt and Tumblr.
History

The original short was meant to premiere in Fall of 2007, but was leaked to the Internet in 2006. It featured a human boy named Pen (named after the show's creator), and a magic dog named Jake who is voiced by John DiMaggio (known for his role as Bender on Futurama). Internet audiences were drawn to the surreal nature, stylized animation, and clever humor of the short. The short was nominated for an Annie award for Best Animated Short Subject in 2006.[2]
Cartoon Network
Adventure Time premiered on the Cartoon Network on April 5th, 2010, and was seen by 2.5 million viewers.[3] Pen's name was changed to Finn, and is voiced by Jeremy Shada (the younger brother of his original voice actor).[4]
The show has had several celebrity guest starts including Lou Ferrigno, Mark Hamill, Andy Samberg, and Neil Patrick Harris.
Reception
The show has received positive reviews from Robert Lloyd on the LA Times[5], been nominated for two Primetime Emmy Awards for "Outstanding Short-format Animated Program", and two Annie awards for "Best Animated Short Subject" and "Best Animated Television Production for Children".
Fandom
The official Adventure Time blog[6] often posts fanart.






On YTMND
There have been doznes of YTMNDs made in tribute to Adventure Time, with the oldest instance created on January 12th, 2007. Most of them are related to the short, but there are some based on the show as well.
On Tumblr
On Tumblr[10], the "Adventure Time" tag contains many Adventure Time derivatives.






There are several Adventure Time character accounts that interact with Tumblr via the "Ask X" feature.

Cosplay
Cosplayers dressed up as characters from the show appeared at Anime and Comic conventions before it was announced that Cartoon Network would be picking up the show.[7]






On December 15th of 2010, Hot Topic began selling their own version of Finn's hat.[9]

Interactivity
Adventure Time is well known for its open relationship between staff and the fans. The official Adventure Time blog[6] shares official artwork, early drafts and storyboards before new episodes air. Some of the writers and animators are open to fan questions about the show, its development and its universe. They often reply to fans via Formspring accounts.
Adventure Time with Fionna and Cake
In 2010, just months after the premiere of Adventure Time on Cartoon Network, character designer Natasha Allegri designed gender-swapped versions of Finn and Jake called Fiona (now renamed Fionna) and Cake, a cat. (See also: Rule 63)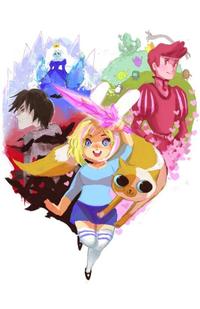 On December 29th, 2010, Natasha Allegri confirmed on her Tumblr[11] that an episode of Adventure Time starring Fionna and Cake was on the works. On September 5th, the episode titled "Fionna & Cake" premiered on Cartoon Network[12] scoring a total of 3.3 million viewers[13].
Ending Announcement
On September 29th, 2016, Pendleton Ward announced that Adventure Time would end in 2018 after its ninth and final season.[14] "We tried to put into every episode something genuine and telling from our lives, and make a show that was personal to us, and that had jokes too!" he said. "I'm really happy that it connected with an audience for so long." News of the show's end spread quickly on social media. A reddit thread submitted by lecturermoriarty[15] devoted to the news gained over 5,400 points in less than a day.
Finale
On September 3rd, 2018, Cartoon Network aired a one-hour finale for Adventure Time titled "Come Along With Me." The episode was described by multiple critics as open-ended, building towards an anti-climax where things "continue on" after the finale. It was positively reviewed by Entertainment Weekly,[16] Polygon,[17] Gizmodo,[18] and others. The New York Times devoted several articles to Adventure Time's legacy ahead of the finale.[20][21] Notably, the episode featured a new title sequence and an on-screen kiss between Princess Bubblegum and Marceline. On /r/adventuretime, a discussion thread about the finale gained over 1,400 points in less than 24 hours.[19] Tributes to the show grew popular on other subreddits. For example, on /r/dankmemes, a post by liabar gained over 1,200 points (shown below, left). Another comic by TheFoxborn gained over 11,000 points on reddit and 1800 likes on Twitter (shown below, middle). A third by anondorf1 gained over 6,200 points (shown below, right).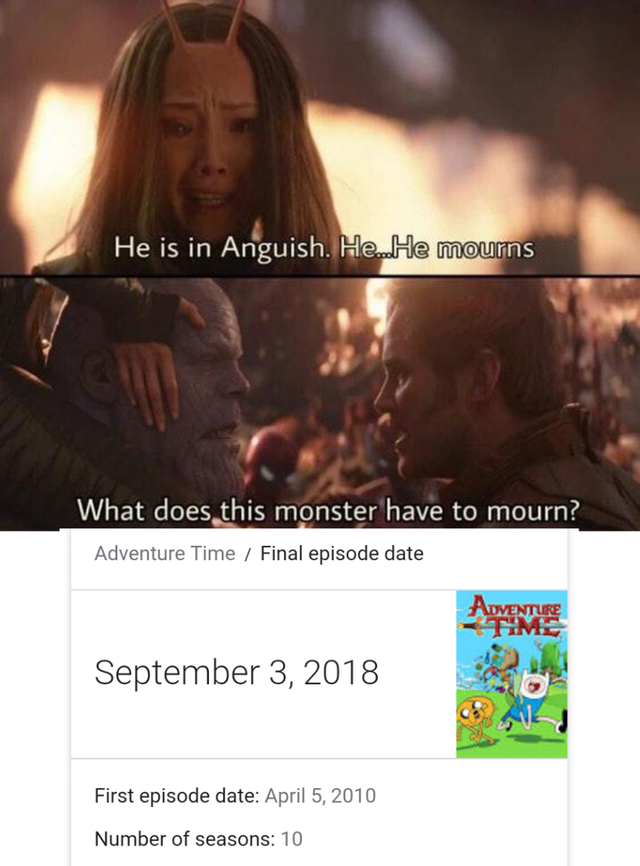 Search Interest
External References
Recent Images 2,221 total