PROTIP: Press 'i' to view the image gallery, 'v' to view the video gallery, or 'r' to view a random entry.
This submission is currently being researched & evaluated!
You can help confirm this entry by contributing facts, media, and other evidence of notability and mutation.
This Entry is still Working in Process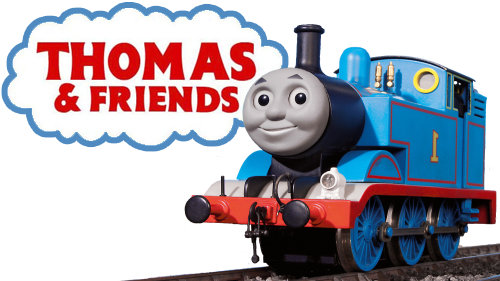 About
Thomas the Tank Engine (also known as: Thomas and Friends) is a British children's television series, which had its first broadcast on the ITV network on 4 September 1984. It is based on The Railway Series of books by the Reverend Wilbert Awdry and his son, Christopher Awdry. These books deal with the adventures of a group of anthropomorphised locomotives and road vehicles who live on the fictional Island of Sodor.
History
Before the airing of the first episode of Thomas & Friends on 4 September 1984, previous attempts had been made to adapt Awdry's stories for television. The first occurred in 1953, when the editor of the Railway Series books Eric Marriott was approached by the British Broadcasting Corporation (BBC), who wished to use live-action model trains to re-create two stories from Awdry's first book, The Three Railway Engines. The engines were portrayed by 00 gauge Hornby Dublo models, and authentic sets produced in the styles of the original illustrations were produced; the first episode, based on 'The Sad Story of Henry', was broadcast live on the evening of Sunday 14 June 1953 from Lime Grove Studios.
Characters
Thomas the Tank Engine
Thomas first appeared in The Railway Series by the Rev. W. Awdry. Thomas's character can change from time to time, from cheeky like Percy to wise like Edward. He is always, however, extremely proud to run his own branch line, and is very fond of his two coaches, Annie and Clarabel. He has the number 1 painted on both the side tanks.
Thomas can be described as a cheeky, fussy little engine. He often gets into scrapes, usually by being over eager to do things best left to bigger and more sensible engines. But clouds never last long in Thomas's world and he's soon bustling about again, playing his part in the yard and on his very own branch line, of which he is extremely proud. He also appears in Thomas and the Magic Railroad, Calling All Engines!, The Great Discovery, Hero of the Rails, Misty Island Rescue, Blue Mountain Mystery, King of the Railway and the cactus190706 youtube model movie called The Rise of Steam as the main protagonist but the duteragonist in Day of the Diesels.
Percy the Small Engine
Percy the Small Engine is the junior member of the Steam Team and the deuteragonist. He is a cheeky, cheerful, happy little engine who is normally content puffing around the yard, Tidmouth sheds or elsewhere. He can always be keen to oblidge, something which the bigger engines often take advantage of. Percy and Thomas are best friends, and his favourite job is delivering mail around Sodor. He is also shown to make obvious mistakes, which Thomas can always help him sort out. He loves to play jokes on other engines which can sometimes get him into trouble, but he still has the utmost respect when needed.
Gordon the Big Engine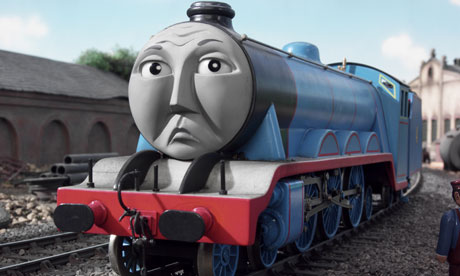 He is the senior member of the Steam Team. He is proud, pompous and arrogant engine, and thinks he is most superior to others. This could get Gordon in trouble from time-to-time. He always lives to pulling the Express, and hates pulling freight cars, and has once fallen in a ditch to avoid doing so. Despite this, he can be kind, forgiving, remorseful and very good-hearted, and will always use his super strength to help smaller engines out of trouble.
James the Red Engine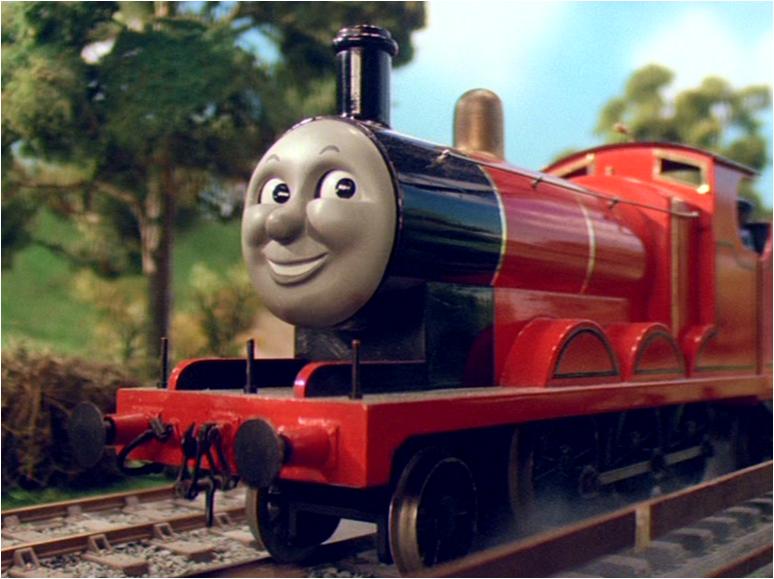 James is a medium-sized red engine and the tritagonist. He is very proud of his shiny, scarlet red paintwork, and always thinks of himself as the most brightest and shiniest engine on Sodor. He hates pulling freight cars, and thinks he should do work suitable for him. Apparently, his arrogance can often get him into trouble.
Henry the Green Engine
Henry the Green Engine is the tritagonist, and a long fast engine who has a thoroughbred look. Like all thoroughbreds, Henry can easily get sick on a regular basis. He used to need special welsh coal, but after an accident pulling the Flying Kipper, he was rebuilt at Crewe, from a GNR A1 Pacific/C1 Atlantic 4-6-0 into an LMS Stanier 5MT "Black 5" 4-6-0. With his new shape now, Henry is ready to give any engine a run for its money.
Henry's persona can be difficult to pinpoint. Sometimes, he is somewhat pompous like Gordon and James, at other times he is sensitive, or he can be somewhat depressed. But overall, he is very intelligent, helpful and strong at heart. Henry has also from time to time suffered from illness. Henry is a nature lover as well, and likes to stop by a forest he and Toby once helped with, and is always happy there.
Edward the Blue Engine
Edward the Blue Engine is one of the most oldest engines. He is reliable, helpful, kind, friendly, and very wise, and proves to bigger engines of how really useful he is. Whenever there's trouble, it's Edward that Sir Topham Hatt turns to to restore order. Like James, Edward is a mixed-traffic engine, meaning he can pull coaches or cars respectively. He often works as a ``back engine'', helping push heavy trains up Gordon's Hill. Edward also has his own Branch line which he runs with help from BoCo, and sometimes Donald & Douglas.
Sir Tophan Hat
Sir Topham Hatt is the superintendent of the North Western Railway. He is the one responsible for giving all the engines their jobs and tell them what they're to do. He is quite a strict, stern, and very firm character that will remind the engines that he is in charge and he gives orders when some try to rebel against his authority. But overall, he is a fair, forgiving, wise and kind-hearted gentleman who loves his engines and is very proud of all of them and can always rely on them to be Really Useful.
Mr. Conductor
Left: George Carlin in Shining Time Station in Season 2 to 3 | Right: Alec Baldwin in Thomas and the Magic Railroad
Mr. Conductor is an 18-inch, 20-centimeter man with magical powers and lives in the signal house on the mural at Shining Time Station, and one of the show's main character.
To date, there have been three Mr. Conductors who have lived at Shining Time Station. The first was portrayed by former Beatles drummer Ringo Starr during the first season as well as the TV special 'Tis a Gift. The first Mr. C was initially very wary about newcomers, but gradually decided to reveal himself to Matt, Tanya, Stacy, and Harry.
Related Memes
Thomas O Face
The Thomas O-Face is one of Thomas' faces from early on in the television show, mainly used in Seasons 1 and 2. It is a popular gag in Thomas and Friends YouTube Poops, often accompanied with a specific synthesized tune from the show.
Thomas the Tank Engine Remixes
Thomas the Tank Engine Remixes are a series of YouTube videos that mix the original theme song with mostly popular rap songs.
Accidents Will Happen
Accidents will Happen is a song dedicated to the various accidents that occurred during the series, written by Mike O'Donnell and Junior Campbell.
Search Interest
External References
W.I.P.
Facebook Comments