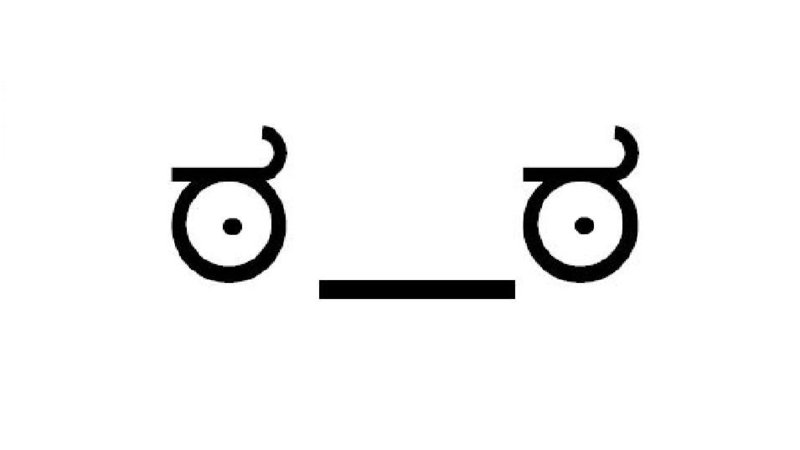 About
ಠ_ಠ, otherwise known as the "look of disapproval," is a character sequence commonly used as a reaction emoticon to express one's disapproval or disbelief.
Origin
The unicode character "ಠ" comes from the letter "ṭha" in Kannada, one of the major Dravidian languages of India that is influenced by Sanskrit. Despite its origin, the character has been used as an emoticon primarily outside of India. According to Lurkmore Wiki, the earliest use of ಠ_ಠ began on the Japanese imageboard site 2channel and eventually spread across other languages, most notably on 4chan.

Spread
The earliest known mention of "ಠ__ಠ" on 4chan can be found in an /b/ thread titled "epic fail guy gravity" archived on May 31st, 2007. Usage of the emoticon to continuously grew on 4chan throughout the year. In October 2007, a question was posted on Yahoo Answers[11] about the sequence instruction for using "ಠ__ಠ."
The first Urban Dictionary entry [1] was created on July 13th, 2008, which describes the emoticon as "a silly little face." It wasn't until April 2009 when the emoticon became associated with a "look of disapproval." On Reddit, the novelty account "look_of_disapproval"[5] uses the "ಠ_ಠ" emoticon at strategic times and typically receives a fair amount of comment karma. On Facebook, the official Facebook page for "ಠ__ಠ"[8] has over 13,188 likes as of September 2011.
The Wikitionary[10] entry for "ಠ__ಠ" was first submitted on July 25th, 2009, which describes the emoticon as being "created on the same principle as o_O, but using a Unicode character which more closely resembles an eye with an eyebrow."
Usage
The emoticon is most commonly used to express disapproval or disappointment, in similar vein to other expressions and reaction faces like "are you kidding me?" among others.
Speaker 1: I have just purchased a Yoko Ono CD
Speaker 2: ಠ_ಠ
In OS X, the emoticon can be summoned using the shortcut of Option + 0CA0 and in Windows XP, the shortcut of ALT + 3232 is used.
Variations
There are several variations of the original "ಠ__ಠ" emoticon, such as:
Derivative: Tom Delay


The photo used for the Tom Delay photoshopped version comes from a Reuters photo from 2005 [2] taken after being indicted and forced to step down as the House Republican leader. The earliest known posting of the photoshopped version is from November 12th, 2006 in a LastFM 4chan forum thread [3].
Image Macros






Search Interest
Google searches started around mid-2006, and the earliest instance found so far is on Christian Anime Alliance website[4].
External References