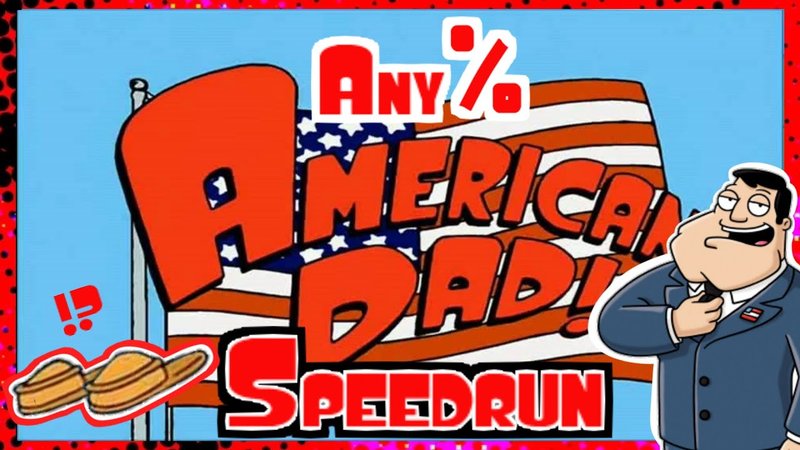 About
American Dad Speedruns refers to a subset of American Dad theme song parody videos which parody the video game speedrunning community. The videos feature "players" who act as though they are exploiting glitches in the American Dad theme song sequence to shorten its length as though it were a video game, though the trick is achieved with video-editing software. Commenters on the videos will play into the parody by suggesting further potential exploits and encouraging the "runner."
Origin
On July 7th, 2019, YouTuber Lyve posted an edited American Dad theme song video parodying speedrunning, saying they had exploited a "floor glitch." The video gained over 50,000 views (shown below).[1] Its description reads:
My attempt at the American Dad Stan Speedrun. I shaved off a good bit of time using the floor clip glitch but wasn't able to hit the empty newspaper skip. You can preform the floor clip glitch by reloading the game right before you hit the ground. The floor takes a second to load in and if you time it right you can clip through it and hit the "Hug Your Family" checkpoint.
Spread
Months later, other YouTubers built on the original concept. On November 20th, YouTuber fuck posted a video that purported to have both the floor glitch and the "newspaper skip" mentioned by Lyve in their video (shown below, left). This was the first of dozens of parodies in which others posted their "runs" of the American Dad theme. The following day, YouTuber ElatedTurtle made a video featuring face-cam, gaining over 8,600 views (shown below, right).
On November 23rd, Simon ScarHead FanBoy posted a video with a purported "new" skip that he'd discovered when Joe from Family Guy is the main character, gaining over 16,000 views (shown below, left). The trend culminated in colemancheu's "The History of American Dad Speedrunning," a SummoningSalt homage that covered the history of the meme, gaining over 440,000 views (shown below, right).
Various Examples
Search Interest
External References