This submission is currently being researched & evaluated!
You can help confirm this entry by contributing facts, media, and other evidence of notability and mutation.
About
Barack Obama Watching TV is a photoshop meme featuring a photograph of president Barack Obama seated in front of a television and laughing towards someone offscreen. The picture is often used as an exploitable with various humorous images edited over the original television screen.
Origin
On August 28th, 2008, Hillary Clinton delivered a speech at the Democratic Convention in Denver, Colorado, in which she called on delegates to vote for her rival, then senator Barack Obama, for President of the United States. During the broadcast, Obama viewed the speech on television at a home in Billing, Montana,[1] where he was photographed by photographer Emmanuel Dunand of the Agence France-Presse (shown below).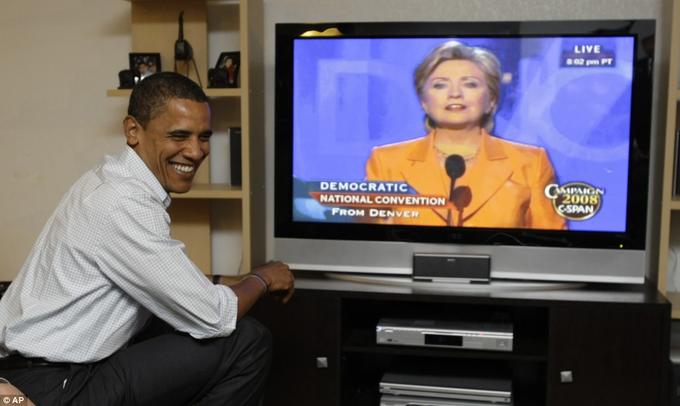 Spread
On September 30th, 2008, a photoshopped version of the image featuring a woman with her hand down a man's pants displayed on the TV screen was highlighted on college football blog "The Wiz of Odds."[2] On October 6th, 2009, YouTuber JustinBieberOneLove uploaded a video in which Obama appears to be watching pop star Justin Bieber on TV (shown below). Within six years, the video accumulated more than 200,000 views.
On March 21st, 2010, Newgrounds Forums[5] member Ptcfast posted a template version of the photograph, inviting other users to photoshop the image (shown below, left). Over the next month, the thread received over 40 replies. On January 16th, 2012, an edited version of the image featuring deceased rapper Tupac Shakur was highlighted on the Shakur fan blog Truth About Tupac (shown below, right).[6]


On January 20th, 2015, Tumblr user afroforestry posted an edited Obama watching TV photo featuring Tom Brady[7] sitting on a football field in reference to the Bradying meme (shown below).

Various Examples




I Posted It Again, LOL
A variation of the meme featuring pictures referencing Internet memes with the caption "I Posted It Again, LOL" has been used as a reaction image to call out reposted content (shown below).




Search Interest
External References
Recent Videos
There are no videos currently available.