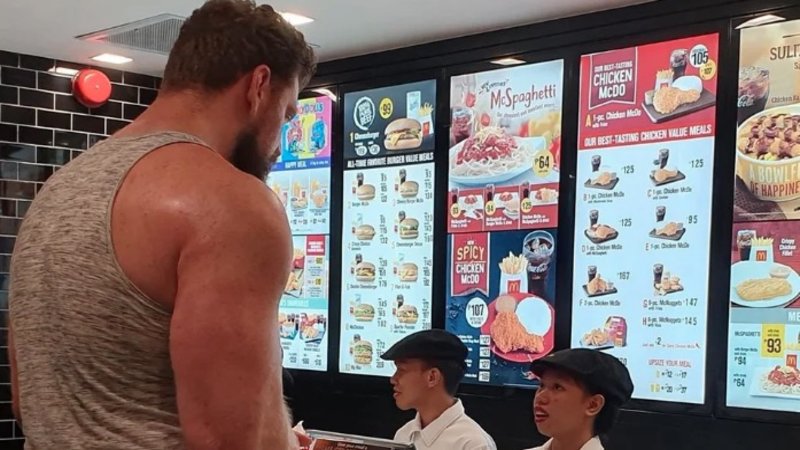 Big Guy Ordering at McDonald's
About
Big Guy Ordering at McDonald's refers to a picture of Instagram user TheDutchGiant ordering at a McDonald's in The Philippines. The image grew popular on Reddit in August of 2019 as users created object labeling memes with the photo, as well as photoshops. Other users were baffled to see on the McDonald's menu the item "McSpaghetti," a little-known McDonald's product in the western world.
Origin
On July 7th, 2019, Instagram user TheDutchGiant,[1] aka Olivier Richters, posted a picture of himself ordering at a McDonald's in The Philippines (shown below).

Spread
On August 21st, 2019, the picture was posted to /r/SameSpecies.[2] From there, it spread to /r/AbsoluteUnits,[3] where it gained over 48,000 points. It also was posted to /r/PsBattle,[4] where users created photoshops based on the image. Some examples include edits by Spoogen_1 and jaimersonn (shown below).


The image gained much more traction as an Object Labeling meme on subreddits such as /r/dankmemes. There, popular posts include edits by Equiwhiff[5] (shown below, left) and RegalReaper[6] (shown below, right). Many of these posts referenced the inclusion of a "McSpaghetti" on the menu, which to many users came as a surprise.


Templates

Various Examples






Search Interest
Unavailable
External References
Recent Videos
There are no videos currently available.