About
BLUE_CHANNEL: THALASIN is a viral Analog Horror video uploaded by Gooseworx in early 2021. The video is a mock television commercial for a drug called Thalasin that causes a variety of emotions in the user. In the second half of the video, the host talks about Thalasin+, which allows users to experience emotions "beyond previous natural capabilities," represented by disturbing, body-horror esque images of someone striking each facial expression.
Origin
On October 15th, 2018, YouTuber Gooseworx posted a video titled "THE_BLUE_CHANNEL" consisting of a VHS-quality blue screen with the word "BLUE" in the bottom right corner and a strange song, gaining over 443,000 views in three years (shown below, left). On January 15th, 2021, the YouTuber uploaded a video titled "something blue is coming" advertising an upcoming project, showing a flash of a medication box labeled "Thalasin" (shown below, right).
On February 6th, Gooseworx released the project, titled "BLUE_CHANNEL: THALASIN." Presented as a television commercial, the video advertises a drug called Thalasin, which is presented as multiple pills, each one causing a different emotion. Each emotion is illustrated through drawings of common facial expressions. In the second half of the video, the host of the ad talks about Thalasin+, which can induce emotions "beyond previous natural capabilities." These are similarly represented by drawings of extreme, horrific body-horror-like facial expressions with names like "dorcelessness" and "andric." The video gained over 1.4 million views in just under a year (shown below).
Spread
Following the rise in popularity of the video, Urban Dictionary have attempted to define the emotions presented in the video. At the time of writing all the emotions have Urban Dictionary definitions. The emotions are humber,[1] nage,[2] dorcelessness,[3] andric,[4] varination,[5] ponnish,[6] harfam,[7] kyne,[8] trantiveness,[9] teluge[10] and loric.[11]

On July 14th, Redditor TrashClear483 posted an image consisting of all the horrific emotions from the video to /r/bossfight,[12] gaining over 3,000 upvotes in six months (shown below).

On September 29th, 2021, Vinny from Vinesauce aired the video during one of his streams (shown below). The emotions induced by Thalasin, most notably Dorcelessness, subsequently became a recurring reference in Vinny's streams.
Fan Art
The video has inspired a strong fan art community. March 20th, Deviant Art[13] user charcoalman posted a GIF showing recreations of every horrific emotion, gaining over 10,000 views in 10 months (shown below).

On October 24th, Redditor nirvanaspirit666 posted a collection of original art imagining new horrific emotions in the same vain as the Thalacin+ emotions, gaining over 120 upvotes in three months (shown below).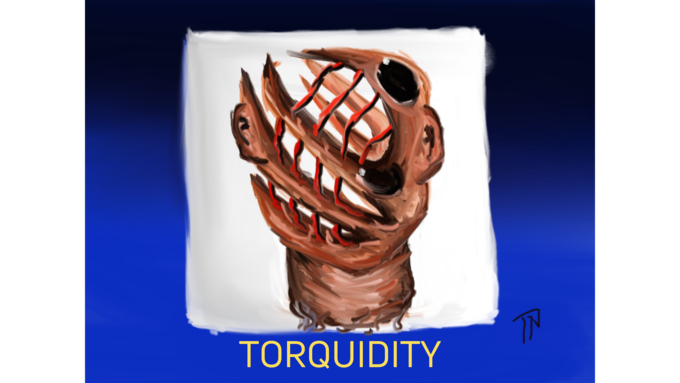 Various Examples






Search Interest
External References