This submission is currently being researched & evaluated!
You can help confirm this entry by contributing facts, media, and other evidence of notability and mutation.
About
"Business Is Boomin'!" refers to an image macro featuring the 2018 film Spider-Man: Into the Spider-Verse character Kingpin, captioned with his rephrased quote "Business Is Boomin'!" In late October 2020, the macro gained popularity in meme communities on Reddit and Facebook, often used in combination with Companies After Inventing format. The format is similar to Stonks.
Origin
On December 14th, 2018, animated film Spider-Man: Into the Spider-Verse premiered.[1] In one scene of the film, the main protagonist Miles Morales discovers a "Super-Collider" built by main villain Kingpin (scene shown below, left). In the scene, Kingpin talks to the captured Spider-Man and orders to begin the test of the collider. In the meme, a still image of Kingpin from the scene is used.
While the quote "Business is boomin'!" is not said by Kingpin in that scene, it appears in the film as a dialogue between Spider-Man and Kingpin several minutes later.
- Hey, Kingpin! How's business?
- Boomin'!
On June 15th, 2020, Redditor[2] camdensparks made the first post combining the image with the misquote, using the macro for a Companies After Inventing meme. The post received over 18,700 upvotes in four months and started both Business Is Boomin'! and the Companies After Inventing formats.

Spread
On June 16th, 2020, iFunny[3] user Nuke reposted the meme, gaining over 57,200 smiles in four months. The format did not see further spread until prior to August 3rd, 2020, a unknown user posted the first derivative meme based on it (shown below). On August 3rd, iFunny[4] user heroin made the earliest found repost of the meme. The image received viral spread online, with multiple reposts on Twitter,[5] Reddit[6] and Instagram[7] in the following weeks.

On September 23rd, Redditor Stage4 posted a meme based on the format that received over 15,800 upvotes in /r/dankmemes in two months (shown below, left). On September 24th, Redditor Sushchbach posted an example that gained over 22,000 upvotes in the same period(shown below, right).


Following the September posts, the meme format gained larger online on Reddit, Facebook and other platforms. In the following months, the format became more disconnected from Companies After Inventing jokes, being used independently.
Related Memes
Stonks
Stonks is an intentional misspelling of the word "stocks" which is often associated with a surreal meme featuring the character Meme Man standing in front of a picture representing the stock market followed by the caption "Stonks." The picture began seeing use as a reaction image online in jokes about making poor financial decisions.

Various Examples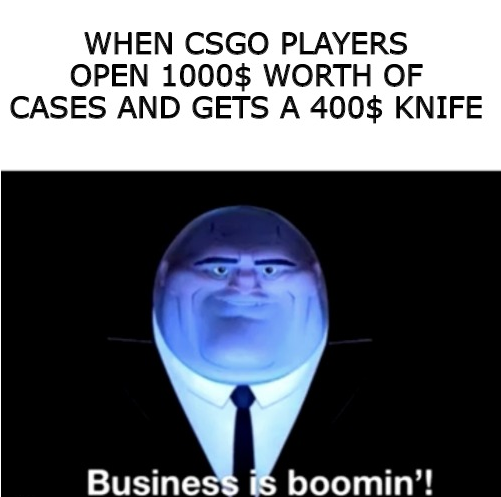 Template

Search Interest
External References
Recent Videos
There are no videos currently available.