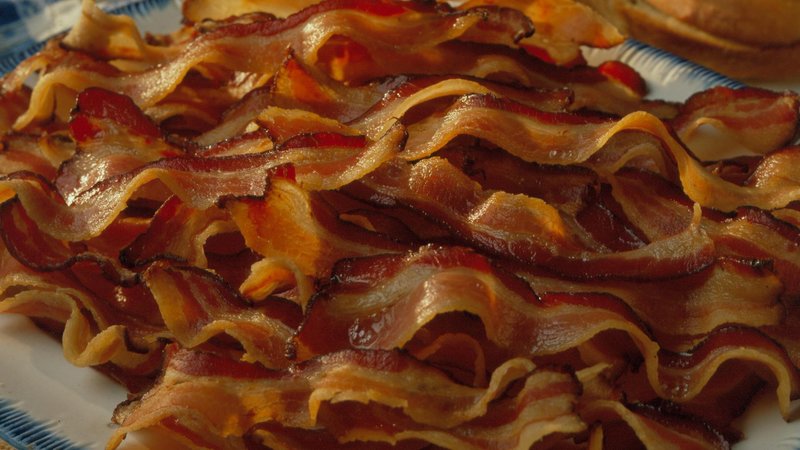 About
Bacon is a cured meat made from pork or turkey traditionally eaten as a breakfast food or as a complementary ingredient in other dishes. Since the 1980s, passion for novelty bacon dishes and products in the United States and Canada has steadily increased.
History
Bacon[1] has been eaten by people since the times of Roman Empire[2] with their dish called "petaso," which was boiled with figs and eaten with pepper sauce. The name "bacon" was coined by ancient Germans who originally called the meat bak or bakke, meaning "back," in reference to the part of the pig the cut came from. It became a staple dish throughout Europe and was later brought to North America when Christopher Columbus brought eight pigs with him to America.[3] The meat became more popular in the United States in 1924, when cold cut production company Oscar Mayer introduced packages of pre-sliced bacon for sale in supermarkets.

The first Bacon Festival[14] was held on March 1st, 2008 in Des Moines Iowa, featuring lectures, taste-tests, and even a bacon eating contest. In more recent years, novelty shop sites including Think Geek[5] and Archie McPhee[6] have begun carrying bacon gag items ranging from the bacon flavored (lip balm, toothpaste, hot sauce, and gum) to bacon printed (wallets, wrapping paper, shirts, and bandage strips).

Global Bacon Shortage Rumor
On September 20th, 2012, the United Kingdom's National Pig Association[18] released a statement predicting that a "world shortage of pork and bacon next year is now unavoidable" due to rapidly declining herds and high feed costs that make pig-farming increasingly unsustainable. Citing recent statistical reports of shrinking show herds across European countries, the press release also urged British consumers to shop for domestic pork and bacon as to persuade supermarketers and wholesalers to offer pig farmers a fair price for them to remain in production.
"British supermarkets know they have to raise the price they pay Britain's pig farmers or risk empty spaces on their shelves next year," said NPA chairman Richard Longthorp. "But competition is so fierce in the high street at present, each is waiting for the other to move first."

The press release was picked up next day by The Huffington Post in an article titled "Global Bacon Shortage 'Unavoidable' Next Year, Says U.K.'s National Pig Association,"[19] which went on to generate over 1,800 comments, more than 26,600 shares on Facebook and 123,530 retweets on Twitter in the span of four days. Later that same day, the Huffington Post article was submitted to the /r/worldnews subreddit[20] by Redditor Donovanf, reaching the front page with more than 10,700 up votes and generating over 1,720 comments.

Throughout the following day, the alarming tone of the statement was picked up by both news media outlets and internet publications with provocative headlines like "Global Bacon Shortage 'Unavoidable'" and "Aporkalypse," from the Washington Post, Los Angeles Times and CNN[27] to Gawker[24] and Wired Magazine[28] among many others. The news also reached the earshot of other bacon-lovers on Tumblr[25], Twitter and 4chan[23], where users shared their reactions to the rumors of a looming bacon shortage (shown below).






Meanwhile, columnists for Slate[21] and The Huffington Post[22] expressed skepticism towards the validity of National Pig Association's claim, asserting that the provocative lede of the trade association's press release led to its sensational coverage in the news media and the perceived "bacon shortage" would most likely result in a global increase in meat prices.
Online Presence
Bacon Unwrapped[13] was the first site to document the web's love of bacon, created on January 16th, 2004 by blogger Heather Lauer. She went on to write a book on pop culture's passion for the meat titled Bacon: A Love Story[12], published in May 2009. In August 2006, satire news organization The Onion[15] described the popularity of bacon as a condiment in an article titled "Report: Meat Now American's No. 2 Condiment." Bacon Today[10] was established in July 2008 as a source for all bacon related news, reviews, and recipes. A Wiki[8] was also created, hosting bacon recipes ranging from the everyday to the extreme. There is also Bacolicio.us[11], a site that will make a slice of bacon appear on any website you'd like.
Sizzl
On September 16th, 2015, American meat and cold cut production company Oscar Mayer launched a bacon-themed dating app for iPhone called Sizzl.[28][30] The promotional app offers a fully functional online dating platform where users can specify their preferences in types and preparation methods of bacon in a customizable profile, browse local single bacon lovers by swiping and indicate their attraction intensities based on how long they hold down the "Sizzl" button.

The release of the app caused the news to go viral on social media, reaching the top trending results on Facebook.[29] In addition, Oscar Mayer released a commercial for the dating app that parodied the popular "swipe left" motion of Tinder.
Fandom
Beginning in 2009, bacon saw a period of resurgence with the emergence of "food porn" blogs as a popular concept. A wide variety of Bacon-themed merchandise and apparel launched, including an alarm clock, iPhone carrying cases and even Keds sneakers.[16][17] In April of that year, the LA Times[9] published on article on the internet's obsession with bacon. The trend was associated with the "slow food" movement, the "antithesis of fast food" and the fact it can be made by anyone with any level of cooking skill.






Impact
Push Button, Receive Bacon
Push Button, Receive Bacon is a catchphrase often found in public restrooms under graphic instructions typically found on hand dryers. The phrase's earliest documentation defacing a hand dryer dates back to August 2004, found at Brigham Young University in Utah. Since, the squiggly red lines that represent warm air in pictorial instructions have become synonymous with bacon.


Bacon is Good for Me
The video remix fad Bacon is Good For Me was started in August 2009 after a clip from Wifeswap USA was uploaded to YouTube.[4] In the episode, a child named Curtis is upset because the temporary mom placed in his home wants to get rid of the bacon in the house. YouTubers began making remixes of the original and response videos empathizing with Curtis.
Epic Meal Time
On September 29th, 2010, the YouTube channel Epic Meal Time was created. The cooking series consists of Harley Morenstein and friends who design food items or entire meals made primarily out of meat, specifically bacon. As of January 2012, the channel is the #11th most subscribed-to channel of all time. They have published 70 videos and have over 315 million views, with about 660,000 views a day.
Search Interest
Search queries for Bacon (with "Kevin" removed due to the famous actor Kevin Bacon) has been consistent from 2004 on, rising in recent years.
External References