Days Since Our Last Nonsense
This submission is currently being researched & evaluated!
You can help confirm this entry by contributing facts, media, and other evidence of notability and mutation.
About
Days Since Our Last Nonsense refers to an image of Jim from The Office holding a sign next to Dwight's head that readseith 5 or 6 "days since our last nonsense." The image comes from a 2013 episode of the show and became the subject of memes including image macros and redraws as early as 2015, as well as an exploitable, where the contents of the board are changed. Alternatively, an image of Mr. Krabs from a 2020 SpongeBob SquarePants episode looking at a similar sign reading "Days Without Nonsense" is used in a similar manner.
Origin
On May 9th, 2013, Season 9 Episode 22 of The Office[1] aired on TV. In the episode, Dwight, the new regional manager of the office, explains how he and Jim, the assistant to the regional manager, are running the office on a "no nonsense" policy. In one scene Jim holds up a chalkboard sign that reads "5 days since our last nonsense." Dwight erases the "5" and changes it to a "6." The earliest available upload from the scene was posted to Tumblr[2] on May 10th, 2013 as a series of WebP files. On March 22nd, 2014, a Redditor uploaded a screenshot of the scene to r/funny,[3] gaining over 2,400 upvotes in eight years (shown below).

Spread
On June 2nd, 2015, Know Your meme[7] user Cykron posted a redraw of the scene with "JoJo's Bizarre Adventure": characters from an unknown source, gaining over 800 views in seven years (shown below).

On June 24th, all the members of the band 5 Seconds of Summer changed their Twitter profile pictures to images of Doge and tweeted in the style of classic Doge memes.[4] On June 25th, Tumblr[5] and Twitter[6] user ggukist posted a the "last nonsense" GIF, writing all the members' new Twitter handles, gaining over 12,000 notes and 970 likes on Twitter in seven years (shown below).

On March 13th, 2020 Redditor El_Notabot posted a photoshopped template using the scene to r/MemeEconomy[8] where Dwight changes the board to "0 days since our last nonsense," gaining over 70 upvotes in two years. On May 6th, 2021, Young American's Foundation's Facebook[10] page posted an anti-SJW meme using the format, gaining over 3,900 reactions and 1,200 shares in 11 months (shown below, left). On June 26th, 2021, the official theoffice Instagram[9] account posted the "6 days" meme, writing, "When you make it a full six days without having a mental breakdown," gaining over 162,000 likes in 10 months. On March 14th, 2022, Instagram[11] and Facebook[12] meme pages office_memes_daily_ and The Office Memes posted an image macro using the format captioned, "Earth since the start of the 2020's," gaining over 43,000 likes on the former and 10,000 reactions and 4,600 shares on the latter in a month (shown below, right).


Templates


Various Examples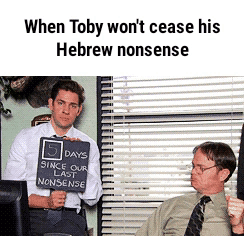 Search Interest
External References
Recent Videos
There are no videos currently available.