This submission is currently being researched & evaluated!
You can help confirm this entry by contributing facts, media, and other evidence of notability and mutation.
About
Desert Dilemma refers to an exploitable template of a thirsty man crawling through a desert and making a decision between two destinations written on different signs. One destination is noticeably farther away while the other is much closer. However, the man in the original comic chooses the farther away option, often 21 miles or 25 miles, as opposed to the closer one. Meme creators recaption what's written on the signs, as well as replace the man or the background, to depict someone making a poor decision. The original image's illustrator is unknown but it surfaced online in 2006. In late 2016, the template was remixed most notably on Tumblr.
Origin
The original cartoon shows a distressed man with blonde hair crawling on all fours through a desert as he reaches two signs in the cartoon, one which reads, "Fresh Water / 1/4 mile → " and the other reads, "Girl's College & Hostel / ← 21 miles." The image depicts the man choosing the 21 miles option, looking especially gleeful about it despite his circumstances (shown below, left).
A watermark in the bottom corner of the image reads "pakwatan.com," most likely the original host site. However, the earliest repost of the image comes from a blogspot[1] blog made on September 20th, 2006. Within the same blogpost,[1] another version of the same comic featuring a female character is present, instead reading, "1/2 Price Sale," on the left-side sign. This image came from "funnyinside.com" but also no longer exists (shown below, right).


Spread
A secondary version of the comic emerged in February 2008 that replaced the left-side sign with "Chicks With Great Big Breasts" and was slightly cropped into a square (shown below). This version was available via Photobucket[2] starting in 2008. Many reposts of the image going into the 2010s had Photobucket watermarks.[3][4]

On December 15th, 2015, a user on the all-male and gay forum JustUsBoys.com[5] posted an exploited version of the image that replaced the sign with a different, NSFW sentiment (shown below, left). In 2016, the template took off en masse within English-speaking meme circles. For instance, on December 20th, 2016, the Tumblr blog majikuru posted a version with the left-side sign reading, "Thots" (shown below, left). The post has since been deleted, though the image[6] is still accessible.


The template continued to trend on Tumblr going into early 2017. For instance, on December 23rd, 2016, Tumblr[7] blog fartgallery posted a version that referenced the Urinal Etiquette template, earning roughly 20,000 notes in five years (shown below, left). On January 7th, 2017, Tumblr[8] blog dooptown posted a version that earned over 320 notes in five years (shown below, right).


Various Examples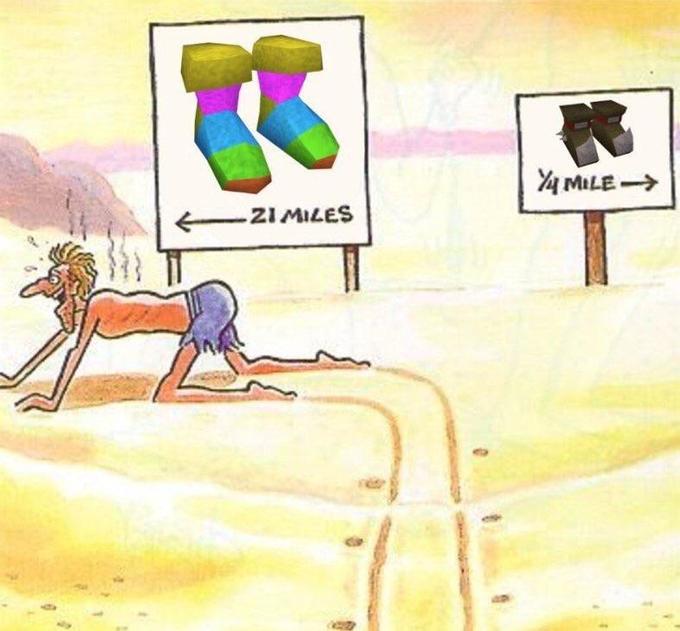 Templates


Search Interest
Unavailable.
External References
Recent Videos
There are no videos currently available.