About
Couple Texting in Bed or Snoo Texting is a four-panel webcomic depicting a couple texting each other in their beds, with both the boy and the girl (the male Snoo and female Snooette mascots from /r/Teenagers) then putting away their phones, blushing and smiling. In late June 2021, memes based on the comic became popularized on social media as an exploitable image macro, with the format seeing a resurgence in October 2021.
Origin
On May 12th, 2021, Redditor AlexMaestro posted a four-panel meme depicting a boy and girl texting each other while laying in their beds. In the third and the fourth panel, but the boy and the girl put their phones away and then lie in their beds smiling and blushing. In an additional panel, the conversation between the characters is shown. The post (shown below) received over 57,400 upvotes in /r/teenagers[1] in six months.


The couple in the image are anthropomorphic versions of Reddit's Snoo.
Spread
On May 12th, 2021, Redditor eligo_xv3 posted the earliest known meme based on the comic, pairing the image with a Shrek reaction image. The post received over 13,500 upvotes in /r/teenagers[2] in six months (shown below, left). On May 14th, 2021, the author of the comic, AlexMaestro, posted an alternative version of the meme to /r/memes,[3] where it received over 23,400 upvotes prior to being removed (shown below, right).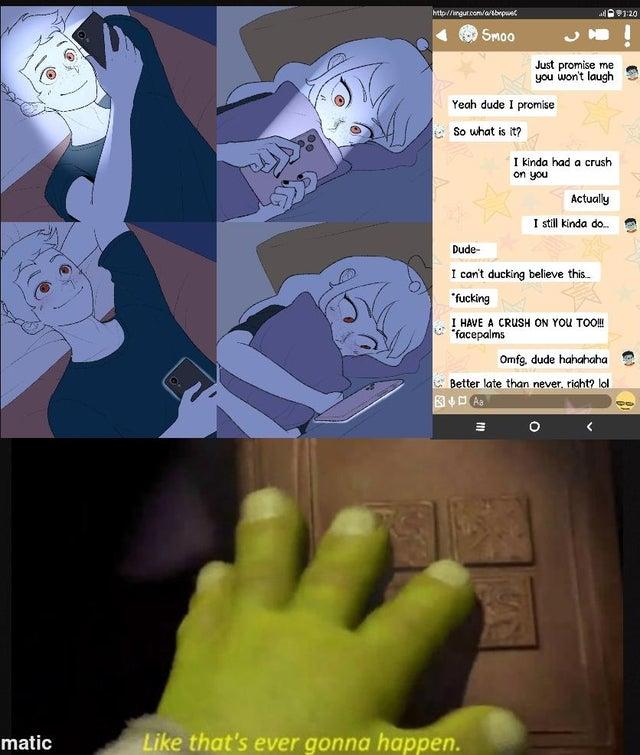 The format first achieved widespread use in late June 2021 after an explicit version created by an unknown author gained virality. On June 23rd, 2021, Twitter[4] user @Zangetsuuuu1 posted made the earliest found repost of the meme, with the tweet gaining 10 retweets and over 420 likes in six months. Another repost, made by Twitter[5] user @FTREFORMED, received over 100 retweets and 1,400 likes in the same period.
In late June and early July 2021, the format maintained notable prominence online. For example, a version posted by Facebook[6] page M i s e r a b l e 悲 惨 な on June 25th received over 17,000 reactions and 7,900 likes (shown below).

The format saw a resurgence on Reddit and Twitter in October 2021. For example, on October 22nd, Redditor[7] Demon1919N posted a version that received over 27,600 upvotes in five days (shown below, left). On the same day, Twitter[8] user @yftor posted a meme that gained over 40,600 retweets and 333,000 likes in the same period (shown below, right).


Various Examples






Template

Search Interest
External References
Recent Videos
There are no videos currently available.