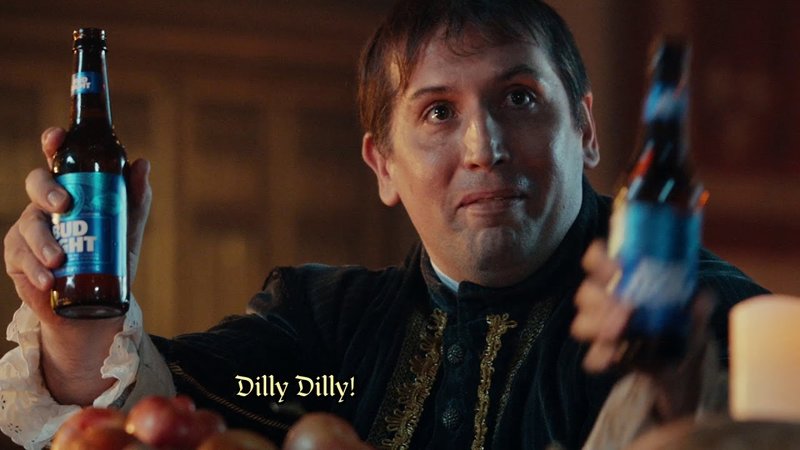 About
Dilly Dilly is a catchphrase from a commercial for Bud Light. In the commercial, the phrase is used in a toast of agreement and praise, similar to how one would use "hear, hear!" The phrase spread through online culture in a series of image macros and was used in pop culture as well, notably being used as an audible signal in an NFL game between the Pittsburgh Steelers and the Tennessee Titans.
Origin
The phrase "Dilly Dilly" comes from a Bud Light commercial which began airing in August of 2017.[1] The ad, made by the Wieden and Kennedy ad agency, is a parody of Game of Thrones. In the commercial, a king is receiving gifts for a banquet. The first two attendees offer the king Bud Light, to which the king replies "You are a true friend of the crown. Dilly Dilly!", after which, the crowd echoes "Dilly Dilly!" The third guest brings a craft mead, and the king banishes the guest to "the pit of misery," to which the crowd cries, "Dilly Dilly!"
Spread
The commercial has continued to air through November 17th, 2017, though journalists have noted it became very popular during the 2017 Major League Baseball postseason, which ran through October of 2017. Maxim described the ads as airing "incessantly" during the postseason.[2] On October 26th, the Miami Herald[3] investigated the origins of the phrase, finding that according to Dictionary.com,[4] "Dilly" was once slang for "delightful" or "delicious" and was probably used in the 1930s.
Because the commercial often airs on sports channels or during sporting events, it has become a meme in sports communities online. For example, a Facebook meme page for the Oklahoma City Thunder of the NBA posted an image macro saying "Dilly Dilly" to some of their players on September 26th, 2017,[5] gaining 166 reactions (shown below, left). On October 29th, 2017, Reddit user Xinlurgash posted an image macro to /r/browns[6] referencing the "pit of misery" with the caption "me irl," a joke about how the Cleveland Browns of the NFL are having a poor season (shown below, right). The phrase is popularly used in sports communities on Reddit as a cheer or toast to a certain team or player.[7] A question about the spread of the phrase was posted to /r/OutOfTheLoop[8] on October 14th, 2017.


Use By Pittsburgh Steelers
The phrase gained further widespread attention when it was used by quarterback Ben Roethlisberger of the Pittsburgh Steelers during a November 16th, 2017 NFL game between the Steelers and Titans.[9] Roethlisberger used the phrase as an audible, meaning when he called out "Dilly Dilly" at the line of scrimmage, he was alerting his team that he wanted to run a different play than the one called in the huddle. The moment was covered by ESPN,[9] The Tennesseean,[10] The Kansas City Star,[11] and more.
Search Interest
External References