2022 Supreme Court Overturning of Roe v. Wade
About
The 2022 Supreme Court Overturning of Roe v. Wade refers to the United States Supreme Court overturning Roe v. Wade – a court case that made abortion legal nationwide – in late June 2022. The decision followed a wide-scale leak of a Supreme Court document that happened a month prior in May. Roe v. Wade has surfaced in online discourse throughout the 21st century amid events like Brett Kavanaugh's Supreme Court nomination, Ruth Bader Ginsberg's death and #StopTheBans, among other political moments and controversies. The May 2022 leak reported by the news outlet Politico generated buzz surrounding President Joe Biden, Bernie Sanders, Hillary Clinton and the Pregnant Man Emoji as well. Additionally, the idea of male politicians making laws about women's rights or bodies inspired memes and tweets across social media as pro-life and pro-choice users engaged in viral debates mid-2022.
Background
Leaked Roe v. Wade Supreme Court Document May 2022
On May 2nd, 2022, the news outlet Politico[1] published an article that provided an exclusive look at a reported first draft[2] written by Justice Samuel Alito that stated, "Roe was egregiously wrong from the start… We hold that Roe and Casey must be overruled… It is time to heed the Constitution and return the issue of abortion to the people's elected representatives." If true, the declarations in the draft would be announced by the Court, given that they represented the opinions held by the Court's conservative majority.
Also on May 2nd, Politico posted a tweet[3] that linked to their article, earning roughly 47,500 likes, 33,900 retweets and 47,500 quote retweets in less than 24 hours (shown below).

Amid the story, Politico published another article,[5] titled "How rare is a Supreme Court breach? Very rare," in which they noted that this was the first time in modern history that the public had seen a Supreme Court draft decision while a case was still pending.
Developments
Soon after Politico reported on the draft opinion, Twitter[4] user cami_mondeaux posted a picture of the front of the Supreme Court Building in Washington D.C., stating that barricades had been put up "minutes" after the article's release. The tweet received roughly 61,100 likes in less than 24 hours (shown below, top). An hour later, a protest gathered in front of the Court Building and a video of it was tweeted by Twitter[6] user pdmcleod, earning roughly 256,500 views and 2,600 likes in less than 24 hours (shown below, bottom).

A couple hundred people or so have gathered tonight outside of the Supreme Court to protest the draft decision overturning Roe v Wade. They're chanting slogans like "abortion is healthcare" and "my body, my choice." pic.twitter.com/kIFwLjBDAP

— Paul McLeod (@pdmcleod) May 3, 2022
Political opinions started to be discussed after the document's leak with a large amount of Democrats opposing the possible overturn and many Republican counterparts praising it. For instance, on May 2nd, 2022, Democratic Senator Bernie Sanders posted a tweet[7] criticizing the possible overturning, earning roughly 256,000 likes in less than a day (shown below, left). On May 3rd, 2022, Republican House Representative Jim Jordan tweeted,[8] "Guess who supported the idea to let states overturn Roe v. Wade in 1981? Joe Biden," earning roughly 30,100 likes in less than an hour (shown below, right).


Christine Pelosi's Tweet and Susan Sarandon's Response
On May 2nd, 2022, Christine Pelosi, the daughter of Nancy Pelosi, posted a tweet[9] about the draft opinion that criticized progressive liberals, saying, "some of you with lofty lefty platforms [who] told people not to vote for Democrats to send a message in 2010… You didn't heed our warnings in 2016. Now you are 'shocked' that the Republican Supreme Court will overturn Roe – but you should be ashamed." In less than 24 hours, it earned roughly 11,700 likes (shown below, left).
The tweet was criticized by both Democrats and Republicans within multiple quote retweets that went viral. For instance, on May 2nd, actress Susan Sarandon posted a quote retweet[10] that included a screenshot of a news headline that stated, "Nancy Pelosi Says Democrats' Focus On Abortion Access Is Hurting The Party." Her QT received roughly 14,100 likes in less than a day (shown below, right).


Roe v. Wade Opinion Draft Confirmed By Supreme Court
On May 3rd, 2022, the verified Twitter[11] account of SCOTUSblog posted a tweet that confirmed the authenticity of the opinion draft leak. An attached image of their statement was included in the tweet that earned roughly 9,300 likes in two hours (shown below, left). A few hours before the aforementioned tweet, President Joe Biden tweeted[12] his own statement, relaying that he was unsure of the authenticity of the draft. The statement (shown below, right) received roughly 64,400 likes in four hours.


Related Memes
MET Gala Happening During Roe v. Wade Overturn
Amid the document being leaked, the 2022 Met Gala was happening live in New York City. The simultaneous nature of both events resulted in memes and tweets that related to the coincidence. For instance, on May 2nd, 2022, Twitter[13] user littlemckim tweeted, "The craziest thing about the met gala outfits is the fact that the Supreme Court is literally overturning Roe v Wade as we speak," earning roughly 165,600 likes in less than 24 hours (shown below, left). Also on May 2nd, Twitter[14] user morgan_sung posted a similar tweet, earning roughly 169,500 likes in the same amount of time (shown below, right).


Other Memes
Multiple memes related to the event appeared across platforms going into May 2022. For instance, on May 3rd, 2022, Instagram[15] page grandoldmemes posted an I Don't Want to Play With You Anymore meme that referenced the Pregnant Man Emoji, earning roughly 4,700 likes in three hours (shown below, left). Also on May 3rd, Redditor sebet_123 posted an I Got You, Brother meme to /r/dankmemes[16] that earned roughly 1,700 upvotes in three hours (shown below, right).


Roe v. Wade Officially Overturned June 2022
On June 24th, 2022, a decision was made and documentation was published to the official website[17] of the U.S. Supreme Court regarding the court case referred to as Dobbs, State Health Officer of the Mississippi Department of Health, et al. v. Jackson Women's Health Organization et al. (first page shown below). The court case was originally argued on December 1st, 2021, when acting Mississippi state health officer Dr. Thomas Dobbs claimed, "[e]xcept in a medical emergency or in the case of a severe fetal abnormality, a person shall not intentionally or knowingly perform . . . or induce an abortion of an unborn human being if the probable gestational age of the unborn human being has been determined to be greater than fifteen (15) weeks."[17]
Dobbs was challenged for the Act in Federal District Court by the Jackson Women's Health Organization, an abortion clinic, and one of its doctors who referenced the Supreme Court's rulings that established a constitutional right to abortion, in particular Roe v. Wade and Planned Parenthood of Southeastern Pa. v. Casey.[17]
The decision made by the Court on June 24th, 2022, in regards to the impending case effectively overturned Roe v. Wade.[17] Written in the Court's decision was, "The Constitution does not confer a right to abortion; Roe and Casey are overruled; and the authority to regulate abortion is returned to the people and their elected representatives."[17] The decision effectively made abortion a state-sanctioned issue rather than a national, constitutional right.

Justice Clarence Thomas Considers Overturning Gay Marriage and Access To Contraception
On page 119 of the Supreme Court's official decision,[17] Justice Clarence Thomas was documented concurring about other Supreme Court cases he felt should additionally be reconsidered in the near future. Among the list of cases that he cited, he included Obergefell v. Hodges which made same-sex marriage a constitutional right, Lawrence v. Texas, which made the right to engage in private, consensual sexual acts constitutional, and Lawrence v. Texas which made same-sex sexual activity legal.
Twitter user fordm predominantly brought the discourse to social media, posting a reply to his own thread[19] that included a highlighted screenshot of page 119. His tweet received roughly 15,500 likes for the reply in one hour (shown below).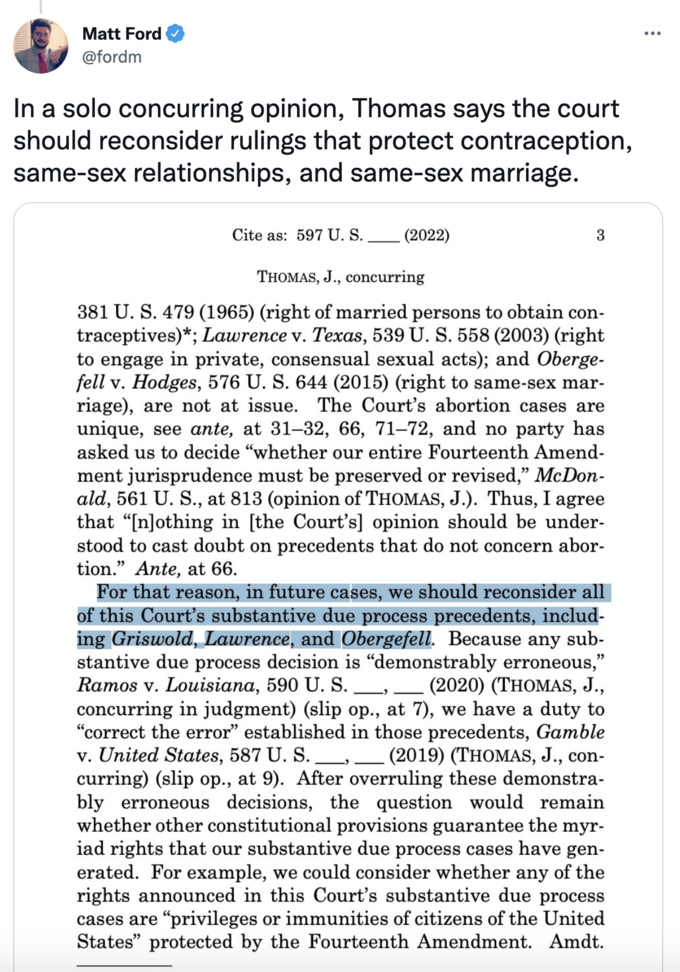 President Joe Biden's Response
After the Supreme Court made its decision on June 24th, 2022, President Joe Biden addressed the nation in an official statement, broadcasted and reposted to YouTube by multiple outlets (shown below). Biden claimed he believed, "Roe v. Wade was the correct decision," and ultimately condemned the decision, claiming the day was a very "sad" day.
Reactions and Memes
On June 24th, 2022, mass engagement and reactions surfaced across social media in regards to the decision given. The first tweet regarding the decision was posted by the official Twitter[18] account of the Supreme Court, earning roughly 39,500 likes in one hour (shown below, left). Other activist groups posted their own announcements and reactions. For instance, the official Twitter[19] account of the American Civil Liberties Union (ACLU) posted a tweet that announced and condemned the decision, earning roughly 14,300 likes in one hour (shown below, right).


Parallel posts with similar intent were made on Instagram[20] and Facebook,[21] among other platforms, however, the most amount of discourse early on occurred on Twitter.
Many notable people condemned the decision, predominantly on the political left. For instance, former U.S. First Lady Michelle Obama tweeted[22] her condemnation and response on June 24th, earning roughly 146,700 likes in one hour (shown below, left). Others championed the decision, predominantly on the political right. For instance, on June 24th, former White House Press Secretary Kayleigh Mcenany posted a tweet[23] that celebrated the decision, earning roughly 25,000 likes in one hour (shown below, right).


Although the reactions were predominantly earnest or sincere, many online started posting humorous content about the decision. Some related it to other recent governmental decisions such as the U.S. Ban on JUUL and the loosening of restrictions on concealed carry in states like New York. The contrasts between banning JUUL, allowing guns and making abortion illegal all in the span of two days proved fruitful for meme creators.
For instance, on June 24th, Twitter[24] user JennyENicholson tweeted, "So the supreme court just wants us all dead huh," earning roughly 12,300 likes in one hour (shown below, left). Also on June 24th, Twitter[25] user redveil tweeted, "leave it to the united states to regress so proudly," earning over 3,000 likes in one hour (shown below, right).


Doxxing Supreme Court Justices
Doxxing Supreme Court Justices is a trend inspired that involved leaking the home addresses of the conservative Supreme Court justices that voted for overturning Roe, comprised of Clarence Thomas, Brett Kavanaugh, Samuel Alito, Amy Coney Barrett and Neil Gorsuch. To some, this method of doxxing acted as a form of protest against the Court and resulted in protestors organizing outside of the Justices' homes, while others saw it as controversial to do so, inspiring viral debates online.


On June 24th, 2022, Vice President Kamala Harris tweeted a photo of her aboard a plane, watching the news coverage of the overturning. She captioned it, "I know there are women out there who are afraid. To those of you who feel alone and scared: I want you to know the President and I are fighting for you and your rights. We are in this fight together." Over the course of six days, the tweet received roughly 35,000 likes (shown below).
I know there are women out there who are afraid. To those of you who feel alone and scared: I want you to know the President and I are fighting for you and your rights. We are in this fight together. pic.twitter.com/1J54ZY2aYk

— Vice President Kamala Harris (@VP) June 24, 2022
Various Memes








Search Interest
External References